Whether you're a serious hiker or just wanting to stretch your legs, the South East offers a diverse range of walks to enjoy. With over 11,000 walking trails, paths and routes to enjoy there are endless discoveries to make along the way. South East England is also home to a host of fantastic walking festivals that offer a great way to explore the area, experience new walks and meet new friends. Head out on foot for some fresh air and exercise and enjoy the 3 million acres of natural beauty in South East England.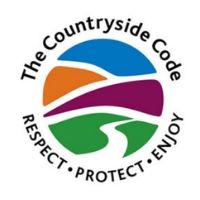 Enjoy the beautiful South East countryside at every opportunity; it is so good for your wellbeing, great to be out in the fresh air and enjoying some exercise. Please remember whilst out and about to follow the Countryside Code.
Take a look at some of our favourite top walks in the South East below, or if you want to stretch your legs a little further, our long-distance walks in Berkshire, highlighting the national trails and pilmgrimage routes in this area (more to follow).
Top Walks in South East England
Part of the South Downs Way, this stretch of coastline has featured in many TV shows and adverts. The series of chalk cliffs with its breathtaking views, make it clear why the sisters have become so recognisable. The 13.6 mile walk goes from Seaford to Eastbourne and includes views of the iconic Beachy Head lighthouse and the chance to enjoy the beautiful Cuckmere Haven. Some shorter self-guided walks are also available if you don't want to walk it all.
This four and a half mile walk takes in the famous Battle Abbey and the 1066 Battlefield, the most famous conflict on English soil. You can also follow in the footsteps of William the Conqueror on a longer 31-mile walk 1066 Country Walk from Pevensey to Rye - look out for the new sculptures along the way.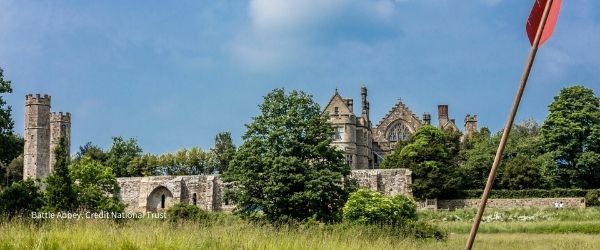 This 100 mile national trail runs from Winchester in Hampshire to Eastbourne in Sussex and has an ascent to 3,800km. The trail runs entirely within the South Downs National Park (SDNP). To long? There are numerous shorter walks starting from Winchester, or in and around West Sussex or take on the coastal walk from Eastbourne to Alfriston (17.5 miles) which can be accessed by walkers only.
The Isle of Wight coastal path can be spilt into 6 sections and takes you the whole way around the Isle of Wight. Walks range from 8 - 16 miles and includes incredible scenery and views a plenty.
Discover the beautiful Sussex countryside around Brighton with the Sussex Walk App. Showcasing 10 walks in and around Brighton, you can experience the beautiful views from Devils Dyke or Ditchling Beacon, explore Brighton's largest park Stanmer Park, or follow in the footsteps of Winnie-the-Pooh at Ashdown Forest. With a whole host of options from 1 mile up, its a great way to explore the beautiful Sussex countryside.
Explore the historic sites of Portsmouth with this 3km walk along the promenade. Starting near Clarence Pier and finishing at The Hard, linking many of the cities historic attractions and taking in the Camber, Old Portsmouth and Gunwharf Quays, the route is indicated by a chain motif set into the surface of the pavement making it easy to follow. Fully accessible and flat.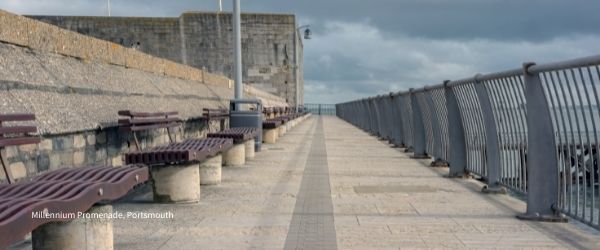 Starting at Jane Austen's house in Chawton, this 4.5 mile walk takes in the countryside that inspired many of her novels.
This 153 mile path stretches from Farnham in Surrey to Dover in Kent, and runs along a chalf ridge of the North Downs, an Area of Outstanding National Beauty (ANOB) and includes the world-famous White Cliffs of Dover
This 3km waterfront trail links Explosions! The Museum of Naval Firepower with the Royal Navy Submarine Museum and offers panoramic views over Portsmouth Harbour.
Open only in the spring at the height of Bluebell season, immerse yourself in a colourful trail of flora and fauna. There's a walk of 2.5 miles and wheelchair accessible 1100m route with mobility scooters available to hire.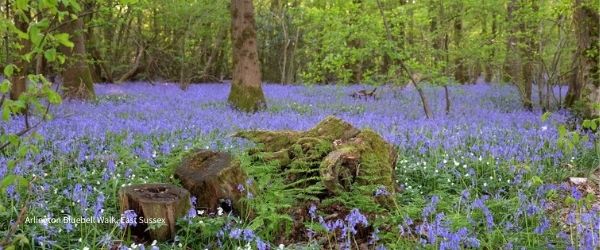 You don't always have to travel right out into the countryside to walk, there are some fantastic places to explore in our towns and cities. Windsor and the surrounding area benefits from some beautiful large open spaces to walk including Windsor Great Park, Dorney Lake Arboretum and alongside the River Thames.
The Basing trail a waymarked, circular 7 mile walk leading to the picturesque village of Old Basing near Basingstoke. The village dates from the Saxon times, and the trail includes the chance to see the Civil War site of Basing House; its ruins, surviving buildings and earthworks that still bear the scars of its historic siege.
Take a stroll along the 4 mile route between Turner's Margate and Dickens' Broadstairs, much of which follows an ancient footpath between St Peter's and St John's churches is signposted in both directions. Start at Margate Harbour Arm next to Turner Contemporary Gallery or on Broadstairs promenade outside Dickens House Museum.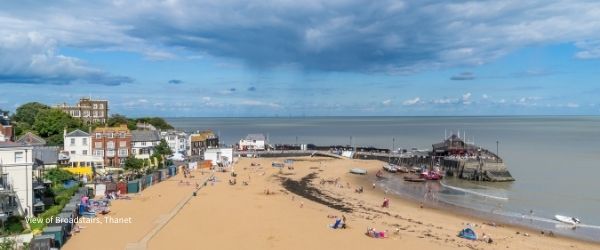 The second largest hill-fort in the country, with spectacular views in every direction - on a clear day you can see as far as Brighton and the Isle of Wight. Cissbury Ring is located in the South Downs National Park, just north of Worthing, West Sussex and is about a 20 minute walk from the local car park at Storrington Rise.
Walking is a great way to discover a new place, to feel part of the place you are visiting and they don't always need to be in the countryside. Discover five walks in and around the city of Southampton, from the chance to walk the historic Southampton walls to a 45 min walk on a titantic tour.
Hengistbury Head is a stunning headland perched on the edge of the Bournemouth coastline, its a beautiful place to enjoy a walk. Enjoy uninterrupted views of the Isle of Wight to the left and the crescent of the Bournemouth and Poole coastline to the right, lots of fresh air and varied flora and fauna.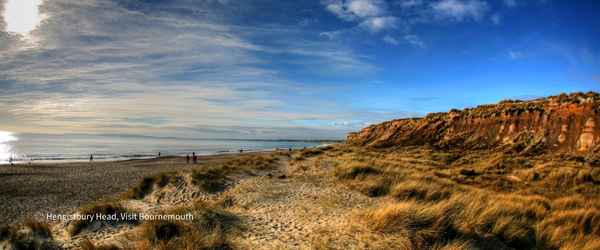 This 18 mile coastal trail along a stretch of the East Sussex coastline, connects three award-winning art galleries along the way, the Towner Art Gallery in Eastbourne, the De La Warr Pavillion and the Hastings Contemporary.
The 21 mile long-distance footpath starts in the beautiful village of Alton (at the railway station) and follows the steep, densely wooded East Hampshire Hangers (a series of steep sided wooded hills) to the market town of Petersfield, then onto Queen Elizabeth Country Park. The trail can be easily divided up into bite-size sections of around two & four miles, making it ideal for a family adventure or an afternoon stroll.
Fun for all the family, this walk follows alongside the River Medway and is marked with twenty posts with zinc rubbing plaques and information about local wildlife. Starting from The Old Boat Café, each post is located where you are likely to see these creatures or signs of these creatures.
Discover the hugh natural basin 'that the Devil scooped up by throwing handfuls of earth at the god Thor' at Hindhead, Surrey, a beautiful wildness with easy access from the A3.
Walking Festivals
Walk, stroll or saunter your way on along to one of this years walking festivals, which kick off for 2023 in March at Heart of Kent Walking Festival, Maidstone, (24th March - 2nd April 23), followed by Alton Walking Festival, East Hampshire (1st - 31st May 23), and then the brand new Reading Walking Festival (10th - 14th May). The first of two walking festivals then takes place on the Isle of Wight (13th - 21st May 23 ), followed by North Wessex Downs Walking Festival, Basingstoke (2nd June - 11th June 23) White Cliffs Country Walking Week (17th - 23rd July), the ten day Eastbourne Walking Festival (15th - 24th September 23), and back to the Isle of Wight (7th - 15th October 23). To view information about each walking festival and to book your walks, please see below.
Coastal walks and walking holidays
Click the 'map view' button or browse the list below for a selection of companies that organise self-led hikes or guided walking holidays, tours, paths and national trails, for individuals and groups, in South East England.