South East England boasts some of the UK's most attractive cities to visit, providing some of the best UK's city breaks - full character and personality, history and culture. From the cosmopolitan vibes of Brighton to the rich maritime history in Portsmouth and Southampton, the ageless grandeur of Oxford and Canterbury and the ancient treasures of Winchester and Chichester. With seven fantastic cities to choose from its easy to book a last minute city break to the South East, experience a spot of culture or simply enjoy exploring a new destination.
Best City Breaks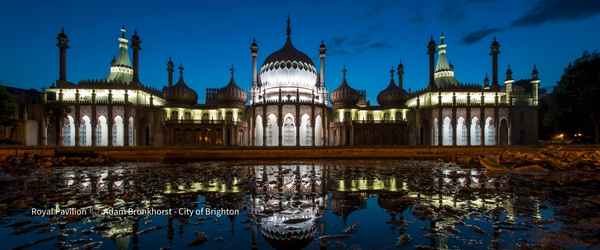 Creative Brighton
East Sussex's most famous seaside resort, with a vibe like no other, a city of creativity and passion, a foodie heaven, ideal for culture vultures looking to dive into its festival feel and discover its award-winning attractions, flamboyant events and Victorian history. Brighton, voted as one of the top 10 city beach break destinations in the world, is a popular choice along the South coast. Whether you choose to soak up the cosmopolitan vibes, try one of the many water sports on offer, you'll find a city by the sea, that is open all year round, with an seafront promenade, wide open beaches, historic arches crammed full of art and souvenirs, a Victorian pier packed with family entertainment and the famous 'Lanes' to wander through and discover.
Discover more about visit Brighton
Just an hour and a half from London by train, Brighton is full of artistic creations and a fantastic array of cultural experiences and night-time entertainment. Brighton is a great choice for a last-minute city break as it is packed full of great places to stay. Stay on Brighton's famous seafront at the iconic Brighton Grand Hotel, steeped in British history or the The Amsterdam Hotel offering views over Brighton's famous pier and with all of Brighton's best attractions on your doorstep.
>>> Search & Book Brighton Accommodation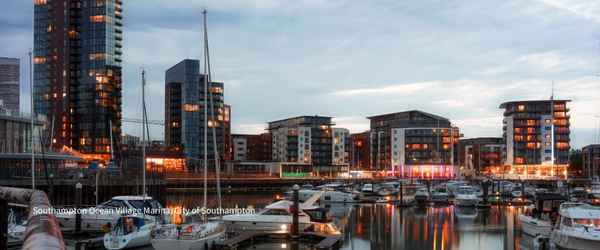 Shop til you drop Southampton
Southampton is the perfect shop til you drop destination, boasting high end as well as bargain based shops with West Quay Shopping Centre in the heart of it all. Situated on England's South Coast this vibrant city is the cruising capital of the UK, home to the internationally renowned Southampton Boat Show and a bustling cultural quarter which is full of live music venues, museums and glourious galleries. Steeped in history and culture, Southampton brings together old and new, with a treasure trove of hidden gems, arts and entertainment. Make a stop at Southampton City Art Gallery, enjoy a West End show at the Mayflower Theatre, home to some of the biggest shows in the country, delve into the city's history and heritage with See Southampton or a visit the old town where you will come across the magnificent Tudor House built in the late 15th Century.
Discover more about a visit to Southampton
An hour and a half from London by train, Southampton is one of three cities in the county of Hampshire. It's a city with an array of places to stay as individual as the city itself, including the Hilton at the Ageas Bowl, home of Hampshire Cricket. Southampton is the great destination for exploring with easy access to both Portsmouth and Winchester, it also borders the New Forest National Park so you can combine both city and countryside on this city break in 2023.
>>> Search & Book Southampton Accommodation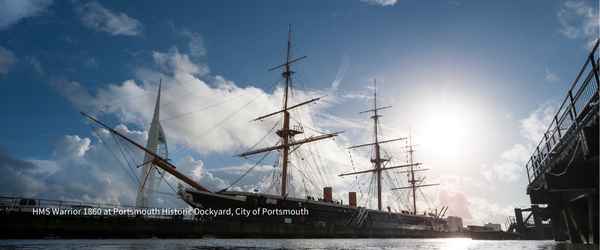 Maritime Portsmouth
Portsmouth the Great Waterfront city, famous for its historic dockyard and naval history. Even today, many of Portsmouth's most stunning features and most popular attractions are found near the harbour. From the elegant yet imposing Spinnaker Tower, to the historic HMS Victory and Henry VIII's flagship the Mary Rose. Take a stroll along the seafront promenade, watch the ships passing in and out of the historic harbour, make a visit to D-Day Story, the only museum in the UK dedciated to the allied invasion. Situated on England's South Coast, Portsmouth also has direct links to the Isle of Wight, Gosport and the continent.
Discover more about visiting Portsmouth
Just an hour and a half from London by train, a city break to Portsmouth combines time by the sea with all the fantastic amenities and cultural experiences you'd expect from a large city. Portsmouth is the UK's only island city, surrounded by water, this plays a big part in a city break to Portsmouth. An ideal destination for a family break at any time of the year with lots of do and see.
>>> Search & Book Portsmouth Accommodation

Characterful Chichester
West Sussexs only city, once an historic Roman settlement, its an ideal choice for nature lovers and history buffs. Chichester sits at the foot of the South Downs, is home to a host of historic sites, the tranquil Chichester canal and Chichester Harbour Area of Outstanding Natural Beauty (AONB). The magnificent Cathedral, the site of the Shrine of St Richard of Chichester sits at the city's heart, an ideal starting point for your visit. Head just around the corner to Bishop Palace Gardens, a hidden space to enjoy some peace and tranquillity before diving into the city's history with a visit to Fishbourne Roman Palace,the largest Roman home in Britain. Look out for the Chichester Cross, a shelter for market sellers in times gone by, which sits in the centre of North, East, South and West streets - now at the centre of the cities modern shopping district, full of independent shops and eateries galore. In the evening pay a visit to Chichester Festival Theatre, this award-winning production house has seen many of its shows transfer to the West End and beyond.
What to explore further? Head to beautiful West Dean Gardens, with its walled kitchen garden,13 working Victorian glasshouses or to Fishers Adventure Farm Park an ideal place to take the kids on this city break, arguably the number one family day out in the South East.
Discover more about what's on offer in Chichester
If your looking for somewhere to stay the The Cottage sits at the eastern end of the city, whilst West Dean College or Chilgrove Farm are both just 6 miles from Chichester city centre. With so much to see and do the hardest decision is how long to stay for.
>>> Search & Book Chichester Accommodation

Historic Winchester
Hampshire's historic cathedral city Winchester is one of the oldest settlements in Britain and the ancient capital of England. The city is dominated by the statue of King Alfred the Great, Winchester Cathedral which dates back to 1070 and one of the largest cathedrals in Europe. A great place to explore on foot and discover the cobbled streets, hidden courtyards and crocked buildings. You'll find a city with great places to eat, historic public houses and coffee shops to take a break in plus some great cultural experiences to enjoy. Discover the grave of one of the most popular literary figures in the country, Jane Austen, get futuristic and hands-on at Winchester Science Centre, enjoy a show at intimate Edwardian-style Theatre venue Theatre Royal Winchester. Head just a short way out of city for a delightful day out with all the family at Marwell Wildlife - with so much to do, its hard to decide if to stay for short city break away or to make it a holiday!
Discover more about a city break to Winchester
Winchester is an hour from London by train, leaving plenty of time for exploring and making it feel like a real escape away. Looking for somewhere a little different to stay? Spend your weekend city break staying in a Norwegian log cabin, set in the centre of South Winchester Golf Club.The Winchester Royal Hotel is a unique hotel is situated in a prime location in the heart of the city.
>>> Search & Book Winchester Accommodation

Academic Oxford
The world-famous City of Dreaming Spires, Oxford is a picture-perfect historic destination set in the heart of the Oxfordshire countryside. Famous for its universities and academic links, but also full of fascinating museums, libraries, and galleries. A destination full of surprises, amazing architecture and a host of fun Instagram-able moments, with its strong film and TV links. Steeped in history it has been the home to an array of famous people including Oscar Wilde and many British Prime Ministers, with a thriving high street, plenty of cinemas, art cafes and music venues there's something for everyone here. Enjoy views over the city at Oxford Castle and Prison and be regaled with stories stretching back a 1000 years, hop on board and explore the city by bus with City Sightseeing. With so much history to uncover a guided-tour is a must and a great way to introduce the city.
Discover more about spending time in Oxford
Accessible in just under an hour from London, Oxford is an great choice for a city break in 2023. Whether you choose to stay in the heart of the city, Royal Oxford Hotel or just a short hop away, Courtyard by Marriott Oxford South, Arden Lodge or The Laurels Holiday Cottages, you'll find a wealth of accommodation choices to suit most budgets and styles.
>>> Search & Book Oxford Accommodation

Charming Canterbury
The city of Canterbury in Kent is home to some of the most historic and well-known buildings in Britain. With its character and heritage, it's no wonder that Canterbury is one of the most popular destinations in the south. As soon as you arrive you can't but notice the famous Canterbury Cathedral. The cathedral, together with St Augustine's Abbey and St Martin's Church make up the city's World Heritage Site. Visit Canterbury and discover a city full of Kentish fare, unmissable experiences, stories of Romans, Saints and Pilgrims. Visit the Roman Museum and explore the city walls, head to Westgate Gardens for a riverside stroll or the Beany House of Art and Knowledge for an afternoon of art and culture. There is so much history to discover book a tour with the South East England Tourist Guide Association to make sure you don't miss anything along the way.
Discover more about historic Canterbury
Taking just over an hour and a half from London to Canterbury by train, this destination is an great choice for a weekend city break. Choose to stay in the heart of the city at the University of Kent (April and June - September) or head a little way out and stay in the Kent countryside, combining your time with a visit to the city, exploring the countryside and visiting the coast.
>>> Search & Book Canterbury Accommodation
We look forward to welcoming you to some of the best city breaks in the UK, remember you book your accommodation or attraction tickets via our website. Planning your trip? Then look a little further and discover the host of events and attractions you can enjoy whilst here in South East England.