With around 400 miles of beautiful coastline, it's no wonder that the South East is home to many of the best beaches in the UK. If you're after somewhere for a safe, clean and enjoyable day out by the seaside, then our list of Blue Flag award winning beaches is perfect for you and your south coast holiday.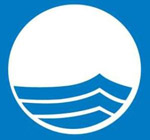 Whether you're looking for golden sandy beaches, an evening stroll to watch the sun set or something more adventurous like water sports and activities, the South East has it covered. Combined with some of the best weather in the UK, why go abroad when there are world class coastal destinations on your doorstep?
Blue flags are awarded to beaches with high water quality and excellent facilities, safety and environmental education. The seaside award is designed to recognise different uses of the UK's coastline. It ensures visitors are guaranteed to find a clean, safe, attractive and well-managed coastal stretch.
>>> Find more things to do on sunny days
Best Beaches in Kent
Thanet has the most Blue Flag beaches in South East England, boasting six of Kent's nine, along with a further four seaside awards. Share your experiences and see some great images on twitter by using the #loveourbeaches hashtag.
Kent's Blue Flag Beaches
Seaside awards
Best Beaches on the Isle of Wight
The Isle of Wight has not applied for Blue Flag status since 2014, but below is a list of beaches that won awards in that year.
Blue Flag Beaches on the Isle of Wight
2018 Seaside awards
Best Beaches in Sussex
Blue Flag Beaches in Sussex
Seaside awards
Blue Flag Beaches in Hampshire
Best Beaches in Dorset
Dorset's Blue Flag Beaches
Alum Chine
Branksome Chine
Canford Cliffs
Durley Chine
Fisherman's Walk
Sandbanks Peninsular
Shore Road
Southbourne
Swanage Central
Weymouth Central
Seaside awards
Avon Beach
Bournemouth Pier
Boscombe Pier
Friars Cliff Beach
Highcliffe Beach
Swanage Central
Weymouth Central
Looking for your ideal beach holiday accommodation? Find hotels, B&Bs, self catering, campsites and much more for your break by the south coast.