LCT 7074 – The newest attraction for Southsea, Portsmouth
4th May 2021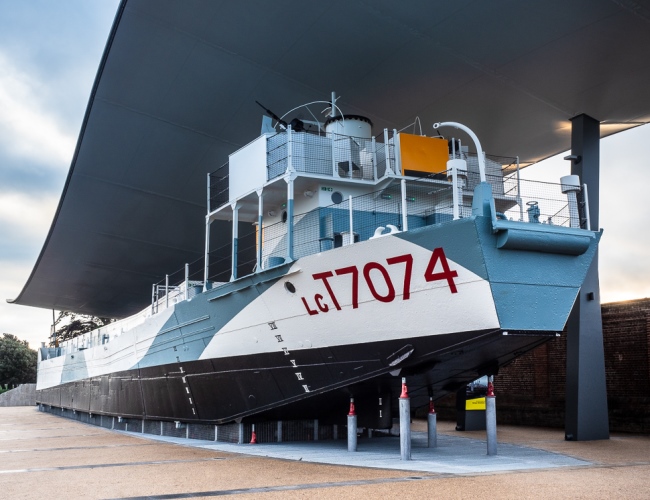 The last landing craft of its kind, LCT 7074, is due to open as part of step 3 of the government roadmap (17th May 2021) as a brand new visitor attraction on Southsea Seafront, Portsmouth.
More than 800 LCTs (Landing Craft Tank) were built for the D-Day landings, to transport vehicles and troops across the English Channel to Normandy. They were enormous vessels – around 57 metres long and weighing around 300 tonnes – enabling them to transport up to 10 tanks and their crew at any one time.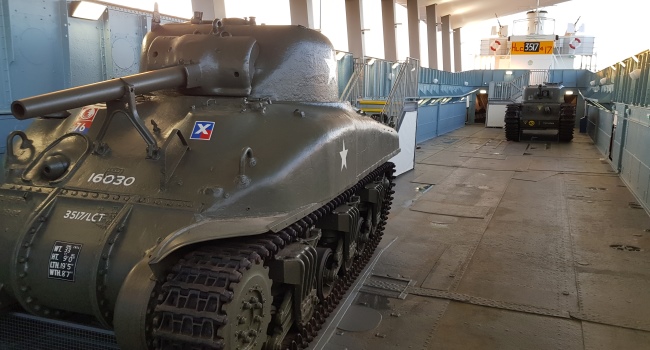 Though hundreds were built, only one remains – and even then it had a chequered post-war history, which include it being transformed into a nightclub, sunk, left to rust and subject to a failed restoration attempt before finally being saved.
Now, thanks to a huge effort and great deal of financial support, LCT 7074 has been restored, preserved, and turned into a fascinating attraction now forming part of The D-Day Story.
The history of LCT 7074
One of the later landing craft to arrive in Normandy for D-Day, LCT 7074 dropped its initial cache of Cromwell, Stuart and Sherman tanks onto Gold Beach. It then set off on more cross-channel trips in the months that followed, carrying vehicles, troops, munitions and supplies between the UK and France.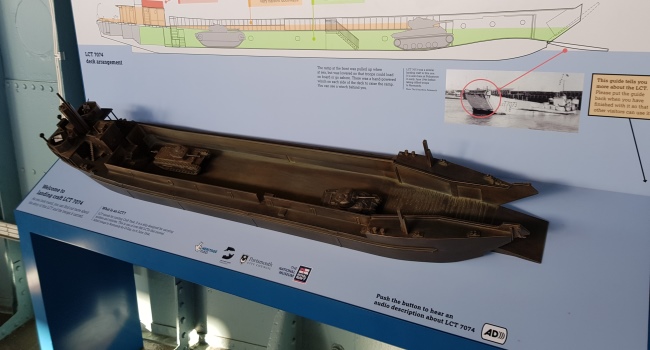 A year later, LCT 7074 was converted for service in the Far East, but the conclusion of the war meant it was never deployed. By 1948 it had been decommissioned.
A second life
Shortly after being decommissioned, LCT 7074 was granted a new lease of life in Liverpool. Now re-named Landfall, the landing craft became club ship for the Master Mariners' Club of Liverpool. Later, LCT 7074 went through another change, this time as a floating nightclub on Birkenhead Docks. Thankfully, there wasn't much taken away from the vessel during these changes, only added to. This massively helped the recent restoration project, as many of the original features and structure remained in place.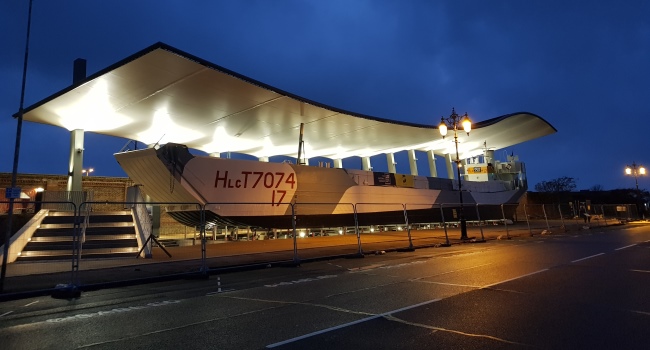 By the 1990s LCT 7074 (or Landfall) had found itself in a sorry state. As such, the Warship Preservation Trust stepped in to try and rescue the craft and restore it to its original glory. Unfortunately, only minor restoration work had been managed by 2006, when the Trust went into liquidation. Unsurprisingly, all work ceased and it wasn't long before LCT 7074 sank into the dock.
Raising and restoring
Fast forward to 2014 and the National Museum of the Royal Navy got involved to save LCT 7074 and finish the restoration once and for all. Over 100 dives were undertaken to survey the wreck, before it was lifted back out of the water in a two-day operation in October 2014.
LCT 7074 was then moved to Portsmouth for the NMRN to begin restoration work in earnest.
The restoration job was huge, with the NMRN having to secure a £4.7 million grant from the National Lottery Heritage Fund to undertake the work. The NMRN worked with marine archaeologists to transform LCT 7074 back from a barnacle-covered rust bucket to the vessel we see today (and which would be familiar to those who took part in D-Day).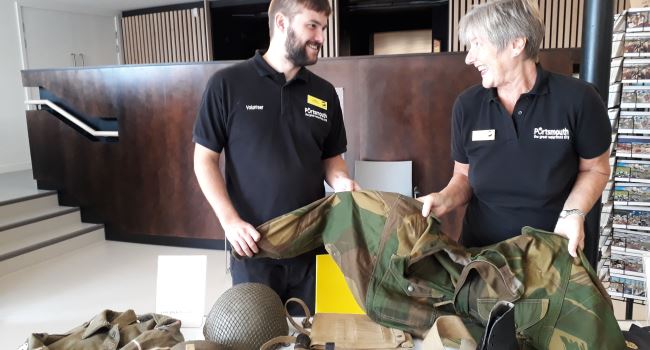 The restoration wasn't the only big job, though. LCT 7074 also had to be moved from its location in Portsmouth Dockyard, to its new home on Southsea Seafront (under a brand new, purpose-built canopy).
The vessel was carried by sea in a precise and detailed operation that was as affected by the tides and weather as D-Day itself. Eventually, though (following some long delays because of the coronavirus pandemic and shorter ones because of the tidal conditions), LCT 7074 arrived in Southsea.
LCT 7074 as part of The D-Day Story
Today, LCT 7074 stands proudly on Southsea Seafront as part of The D-Day Story museum. Visitors can now step on board – via the ramp at the bow – where they'll once again be able to see the two tanks that used to stand outside the old D-Day Museum. There are short films showing the history of LCT and the work it undertook during D-Day, plus a touch-screen display of archive material.
Visitors can also head into the wheel house, where sailors would steer the huge vessel, before moving up to the bridge – for views across Southsea Common and out to sea. The walk around LCT 7074 is a circular one, so visitors can be sure they see take it all in and don't miss a thing.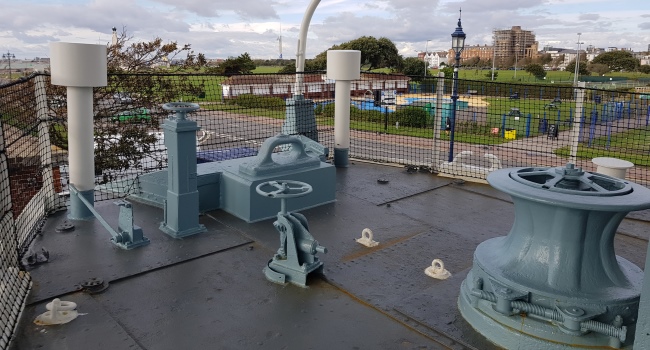 The visit then continues with a trip inside The D-Day Story to learn more about the preparation, operation and legacy of the Normandy Landings. To plan your visit or find out more about the museum and the landing craft, click here.
For more things to do in Portsmouth, click here.