Hastings
Two points of interest dominate the character of the bustling East Sussex town of Hastings – the sea and 1066. One of the medieval Cinque Ports, Hastings has long had a close relationship with the ocean, and although its fishing industry has declined, it still has Europe's largest beach-launched fishing fleet.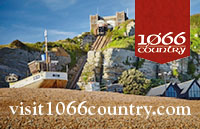 As for the Norman Conquests, Hastings is not the actual location of the famous battle in 1066. That exact spot is just a few miles down the road at Battle Abbey. However, its legacy still colours the entire town. The remains of William the Conqueror's first English castle still stand today, though centuries of warfare and erosion have taken their toll.
Today the town offers a range of attractions for the short break visitor looking for what to do in Hastings. From Britain's steepest funicular, to the meandering alleyways of the Old Town, it's a great place to explore for a few days.
2016 marks 950 years since the Battle of Hastings and there are plenty of special events taking place throughout the year to mark the milestone.
Hastings also boasts a lively (and growing) arts scene. Every year the coastal Current Arts Festival brings a stunning variety of works and performances to Hastings. This innovative, creative side to Hastings comes out in unexpected places. The seafront is now decorated with several impressive light displays – including the wonderful Sticks of Rock!
Things to see and do in Hastings...
Hastings Tourist Information.
Guided tours of the town can be arranged from Hastings Tourist Information Centre or from the railway station. Blue Badge Guided Tours are also available in Hastings (and a great way to get an insight into the history of the town). Click on the location tab for a map of where Hastingsis within the UK and the surrounding area of 1066 Country.
Coach Parking in Hastings
Official coach parks are available at Falaise Road and Sea Road. Download your map here.
Set down/pick up points are provided in the Old Town on both sides of the A259, near to the boating lake.
Coach set down/pick-up points are located at Warrior Square (St Leonards), East Beach Street (Old Town), East Parade and Priory Road.
Pay and Display machines will be in operation at all sites with the exception of Sea Road (unlimited coach and bus parking 8am to 6pm everyday) where there will be no charge:
Falaise Road: 24 hour coach and bus unlimited parking everyday - £1.00 per hour
East Beach Street/East Parade: maximum stay 30minutes in a 2hour 30minute period - 50p per 30 minutes; 8am to 6pm everyday. Telephone 01424 451111 for more information.
Pevensey
Pevensey Castle car park.
£3.50 for four hours.
Rye
Rye railway station.
£14 all day.
Hastings' Accommodation
If you're thinking of staying in Hastings then the medieval town has a number of choices on offer. Swan House is a multi-award winning, boutique guesthouse in the heart of Hastings Old Town. The guest house pride themselves with their locally sourced breakfast ingredients, and daily specials, depending upon what is in season. Or why not stay in an apartment for a week at Rocklands Apartments set high up on the East Hill with spectacular views over the sea and country park. These one and two bedroomed apartments are self-contained and fitted to a high standard with comfortable beds, armchairs and sofas and with everything one would need for a holiday in Hastings.
What's Nearby
"A SHOCKING new attraction for everyone fascinated by the dark world of CRIME"

0.01 miles away

A children's activity centre for children up to 12 years. There is also an outdoor play area with a...

0.05 miles away

The White Rock Theatre offers the very best in entertainment, from headlining comedians to live...

0.11 miles away

Displays of dinosaurs, wildlife, Native Americans, paintings, ceramics, features on John Logie...

0.36 miles away
Previous
Next