Smugglers Adventure at St Clements Caves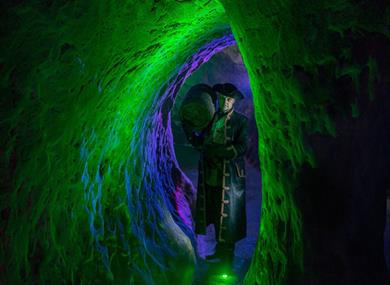 An exciting adventure for all the family as you explore the sandstone wonders of St Clements Caves and discover many surprises around every darkened corner. These acres of caverns conceal Hastings' exhilarating history of smugglers, bootleggers and warring gangs. They became a tourist attraction in Victorian times and on February 22 1864 they even had a visit from the Prince and Princess of Wales.
In the 17th Century, a couple lived in the caves after being discharged from the town's workhouse for repeated misbehaviour. This is just one of countless stories to be discovered in the dark depths of the caves.
Find out more about Sussex or see other attractions and places to visit in the county.
See here for other Historic Sites in the South East.
What's Nearby
Fragmentary remains of Norman Castle built on West Hill after William the Conqueror's victory at...

0.24 miles away

A former fishermen's church by the old net shops, now a museum on local fishing with ship models,...

0.25 miles away

Maritime museum with 3000 years of historic treasures from local shipwrecks. Audiovisual show 'A...

0.27 miles away

Display of marine life with hundreds of marine creatures including sharks, rays, crabs and starfish...

0.29 miles away


Hastings' main beach backs right onto the seafront of this established seaside resort town so you...

0.38 miles away

This 109 acre park was originally laid out by Robert Marnock, a renowned landscape gardener, in...

0.46 miles away

A children's activity centre for children up to 12 years. There is also an outdoor play area with a...

0.7 miles away

"A SHOCKING new attraction for everyone fascinated by the dark world of CRIME"

0.72 miles away

The White Rock Theatre offers the very best in entertainment, from headlining comedians to live...

0.84 miles away

Please note Ecclesbourne Glen is not accessible from the East Hill because of serious, and ongoing,...

0.88 miles away

Displays of dinosaurs, wildlife, Native Americans, paintings, ceramics, features on John Logie...

0.94 miles away

1.77 miles away
Previous
Next