South East Accommodation
If you're looking for accommodation in England's South East and along the south coast, be sure take advantage of the great range of quality accommodation providers available in our handy guide with many properties available to book online.
Win a romantic and festive weekend break at the 4 star Holiday Inn Winchester
From value-for-money bed & breakfasts and self-catering establishments, to quaint great country pubs and relaxing hotels, all offer a warm, friendly welcome and a great place to rest your head while enjoying the hoards of attractions here in the South East.
Why not do something a bit different and stay in South East England's breathtaking countryside on a camping break or for something a little different and unique, glamping is becoming more popular amongst tourists looking for countryside retreats all year round. If you prefer to be pampered, one of the South East's many luxury hotels will fit the bill use the search box on the left or links below to find somewhere special for your next stay in South East England.
Dog friendly accommodation, places to stay and activities
Many of our hotels also provide conference facilities for business meetings, training and other corporate events. Examples include the Langshott Manor Hotel in Surrey, the Solent Hotel & Spa in Hampshire and The Grand in Brighton.
Book Online
Many properties featured on this website display current availability for online booking meaning your stay could be reserved at a great rate within a few simple steps. We would advise that it is often better to book direct with the accommodation operator where you can – it benefits the business, the local economy and often there can be an incentive to you for booking direct. When using the accommodation search on the left towards the top of this page, simply select 'check availability to book online' to get started.
Supporting Local Businesses
Where you see the Eviivo logo, commission free bookings are being made directly with the accommodation provider meaning communications with your reservation and specific requests can be dealt directly by staff at the location you're staying.
Win a romantic and festive weekend break at the 4 star Holiday Inn Winchester!
One lucky winner and a partner will enjoy a romantic short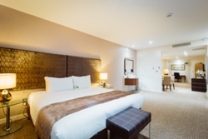 stay break, worth over £500, at the renowned 4 Star Holiday Inn Winchester, staying on the nights of the Friday 1st and Saturday 2nd December, in the hotel's luxury suite.
They will enjoy dinner on both evenings from the hotel's new a la carte menu, including a bottle of Prosecco, in the hotel's 2 AA Rosette Award winning Morn Hill Brasserie, plus breakfast each morning.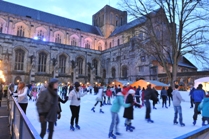 To add a festive note to the prize, the hotel has also included Festive Afternoon Tea for two in the hotel's Morn Hill Brasserie and two adult tickets to the Ice Skating at the Winchester Christmas Market, located by Winchester Cathedral. Recognised as one of the best in Europe with its unique location, the Christmas Market will also offer our lucky winners an opportunity to enjoy the festive atmosphere and explore the many stalls and Christmas gifts.
For more information on the 4 star new generation Holiday Inn Winchester's website. Simply just fill in the form below to be within a chance of winning. Competiton ends Tuesday 14th November. Terms & Conditions apply.
Friendly, family run guest accommodation close to commerical centres in High Wycombe. A character Edwardian hotel with large garden. Executive...