Shopping in South East England
With online shopping starting to dominate the world of clothing and gadgets; you'd be forgiven if you were to purchase something over the net rather than physically going shopping.
However shopping can have a social side to it too, and with many stores and shopping centres still booming in the South East, it is no wonder why people still go out and physically buy things.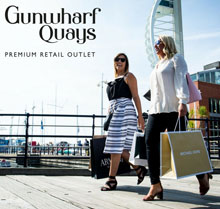 If you think shopping in South England is restricted to Regent Street and Carnaby Street, think again. There's plenty of shopping near London to be done. In fact, the capital is surrounded by thousands of places to go whether it's clothes, gifts or food you're looking for.
If you love to shop, Gunwharf Quays is an absolute must. With over 90 premium retail outlets and up to 60% off the RRP, plus over 30 delicious restaurants, Gunwharf Quays really will leave you spoilt for choice. Visit today to experience the idyllic South Coast setting while you save on your favourite designer brands. But it doesn't stop there…on top of late-night shop and restaurant opening there is a Vue Cinema, Bowlplex and Grosvenor Casino. You many come for the shopping, but you'll stay for the views.
Top shopping places to visit in South East England
While there's plenty to do in Winchester aside from heritage attractions, the city's careful preservation policy means that even shopping in Winchester means popping in to historic buildings. It makes it a wonderful place to go bargain hunting – whether you're thinking antique or boutique! There are also plenty of fashion clothes stores to choose from with high end brands waiting to be purchased and worn.
Brighton is made for walking, so explore the narrow alleys of the 17th century Lanes, a maze of smart shops selling antiques, jewellery and designer clothes. The Lanes in Brighton is one of the South East's more eccentric shopping destinations and was once the heart of an old fishing town. Today the area is a maze of winding streets dotted with many unique and quirky shops, cafes and restaurants. Discover the designer discount outlets at Brighton Marina.
Portsmouth boasts a wealth of wonderful stores, markets, boutiques and unique finds. Take your pick from one of the many shopping areas in the city, each with its own distinct feel and offering. Commercial Road and Cascades Shopping Centre are home to high street favourites, along with well-known cafes and bars. The area is also just a couple of minutes' walk from Portsmouth Guildhall and the New Theatre Royal.For a more relaxed shopping adventure, head down to Southsea, which is packed with antique stores, vintage clothing, and a true bohemian feel.
Isle of Wight may not be known for its shopping however whether you're after a unique and stylish gift, or the freshest and most delicious locally produced food, the island's shops offer great variety and choice. There are plenty of streets full of friendly, independent boutiques and specialist shops making it easy for any shopper to find that special something.
Retail therapy is one of the top reasons to come to the Royal Borough of Windsor and Maidenhead. There are also plenty of cafes and restaurants to feast your eyes on after a long day shopping. At the heart of shopping in Windsor and Eton is Windsor Royal Shopping Centre, a mostly covered area that occupies the site of a 1850s railway station where you can still see Queen Victoria's royal waiting room.
East Sussex's Eastbourne provides an excellent destination for shopping and offers something different. Little Chelsea is a vibrant shopping and dining experience in Grove Road and South Street. It includes tens of independent businesses and shops specialising in art, interior design, designer clothes, antiques and many more. Most of the standard high street shops are concentrated around a compact pedestrian area in Terminus Road with more shops inside the pleasant well run and clean Arndale Centre.
Shopaholics can head for the wonderful Oxford Covered Market for more unusual and retro items. Podarok is a stunning boutique situated in the heart of the city and has a large selection of gifts from homeware to designer jewellery and leather satchels. Head away from the very centre of Oxford and you'll find that the different areas of Oxford have very particular characters; each offers a unique shopping experience. Walton Street in Jericho is probably the trensetting place in Oxford and is home to a handful of really interesting shops in amongst the sophisticated bars and pubs.
In Kent, you'll find McArthurGlen Designer Outlet Ashford where your favourite brands are priced up to 60% less, all year round. There's something for everyone, within this beautiful setting. Situated in the heart of the Garden of England, Kent, and designed by architect Lord Richard Rogers, this is one of Europe's most spectacular shopping destinations.
Good shopping is guaranteed in Basingstoke, with the town's Festival Place shopping centre offering over 200 stores and 31 restaurants, bars and...