Hastings Castle & 1066 Story
Castle Hill Road
West Hill
Hastings
East Sussex
TN34 3AR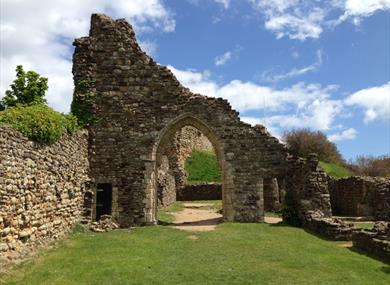 It was the Normans invading Britain in 1066 who took advantage of the hill which overlooked the port of Hastings, erecting their prefabricated wooden fortress, to be rebuilt in stone following the Conquest.
Hastings Castle sits on high of the West Hill overlooking the old town of Hastings. You may reach the castle by driving through back streets or parking in one of the seafront public car parks and taking the West Hill Cliff Railway from town to the top of the cliff.
An exciting 20 minute audio-visual programme 'The 1066 Story' covers the Conquest and the history of the Castle through the centuries. The theatre, designed as a medieval siege tent, seats up to 70.
The castle's south wall and keep were lost to the sea while the remaining walls are ruins. However, the castle remnants still give insight regarding its original architecture. Entry to the castle is gained through the north gate with dungeons located to the left. The walls of the Chapel of the Holy Cross, located along the interior of the north wall, are the largest ones remaining. A high archway and spiral staircase, which is locked by a gate to prevent visitor entry, also exist.
Remains of the east gate and east wall, which served as the foundation for the two towers can still be seen. The motte is located in the northeast corner of the castle. However, it does not possess extensive stonework due to relocation of the keep during the 12th century.
Hastings Castle Reviews (from Google)
Average rating 3.75/5 from 4 reviews.
Absolutely brilliant and beautiful
Lorna, 2017 - 5 stars
Lovely to see the history here, obviously focusing on 1066. The castle is in ruins but it's well worth seeing. The hill lift that can take you up the side of the hill is a funicular railway, again well worth experiencing and something different to do while exploring the local area. Great views from the top of the hill too!
Rebecca, 2016 - 4 stars
Little disappointed but I'm not sure what I was expecting. Nice to pop in and take in the views and history but don't plan on it being a long visit as there is not too much to see. Still, worth a visit.
Bob, 2016 - 4 stars
Very disappointing considering the £4 entrance fee. You can see just as much from outside. A small amount of ruins and a film which was made in the 50's. There are much better free films concerning the castle on youtube.
David, 2016 - 2 stars
Opening Times
2017 Season

(1 Apr 2017 - 31 Oct 2017)

Day
Times
Prices
| Ticket Type | Ticket Tariff |
| --- | --- |
| Child ticket | £3.95 |
| Adult ticket | £4.75 |
| 2 a and 2 c | £15.40 per ticket |
| 2 a and 3 c | £19.35 per ticket |
| Disabled/Carer | £4.25 per ticket |
| Prebooked | £3.85 per ticket |
Note: Prices are a guide only and may change on a daily basis.