Cliff Railways - West Hill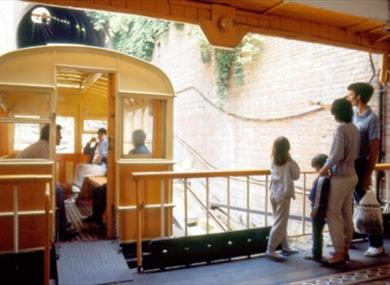 East Hill Cliff Railway
Planning of the Railway
This was fraught with unexpected pitfalls and seemingly insurmountable problems.
Although the town's council successfully bought the land, the original owner, the Reverend Sayer-Milward, had retained a covenant through which he could prevent any construction work.
This setback was quickly compounded by the submission of a major petition from people at High Wickham protesting against any proposed development.
The Council responded with a petition of its own in which 500 residents offered their support for the idea of a cliff railway. This created the impetus for a series of complex negotiations with Sayer-Milward which, after many arduous months, concluded with him granting approval in 1898.
Construction of the Railway
If the Council had found the planning process to be tough, it was nothing compared to the nightmare of the actual construction.
Deep faults in the rocks made it extremely difficult to safely evacuate the shaft and construction workers faced all manner of hidden hazards and perils.
In the Summer of 1902 the opening of the railway had to be delayed because one of the carriages (containing several Council officials) was derailed just fifteen yards from its apex.
Despite all of this, on August 10 1902, the railway finally opened and the first chapter of a one hundred year story had been written.
Legacy of the Railway
The United Kingdom's steepest funicular railway is not only a structure of national importance but also a source of immense local pride.
It casts a welcoming shadow over Europe's largest beach launched fishing fleet and provides thousands of residents and visitors easy access to the Hastings Country Park and some of the most spectacular vantage points over the town.
It's become an enduring symbol of the unique charm and character of Hastings, a symbol powerful and true enough to withstand two world wars and the fast-changing tides of a turbulent century.
The lift's charming lower station is in traffic-free George Street which is full of continental-style cafés, artshops and bookshops.
The West Hill itself offers some of the town's most remarkable views, stretching round to Beachy Head in the west and out across the Channel, the busiest sea lane on the world. It was on this hilltop that Hastings resident John Logie Baird, the inventor of television, made his first radar experiments.
Better still, you can enjoy these sights from inside the West Hill Café which is open throughout the Summer and offers a wide range of drinks and meals.
Opening Times
West Hill

(1 Mar 2017 - 30 Sep 2017)

Day
Times
Monday

10:00

17:30

Tuesday

10:00

17:30

Wednesday

10:00

17:30

Thursday

10:00

17:30

Friday

10:00

17:30

Saturday

10:00

17:30

Sunday

10:00

17:30
East Hill

(1 Mar 2017 - 30 Sep 2017)

Day
Times
Monday

10:00

17:30

Tuesday

10:00

17:30

Wednesday

10:00

17:30

Thursday

10:00

17:30

Friday

10:00

17:30

Saturday

10:00

17:30

Sunday

10:00

17:30
West Hill - Winter

(1 Oct 2017 - 28 Feb 2018)

Day
Times
Monday

11:00

16:00

Tuesday

11:00

16:00

Wednesday

11:00

16:00

Thursday

11:00

16:00

Friday

11:00

16:00

Saturday

11:00

16:00

Sunday

11:00

16:00
*


East Hill lift closed December 24th & 25th 2016. Lift closed for maintenance Jan 2017
Prices
| Ticket Type | Ticket Tariff |
| --- | --- |
| Family 2+3 | £7.00 per ticket |
| Return - Adult | £2.70 per ticket |
| Return - Child | £1.70 per ticket |
| Senior Citizen/Student Return | £1.70 per ticket |
Discounts are available for people with disabilities.
Weekly tickets available.|
What's Nearby
Hastings Adventure Golf is the UK home of Miniature Golf and features no less than 3, 18-hole...

0.01 miles away

Fragmentary remains of Norman Castle built on West Hill after William the Conqueror's victory at...

0.11 miles away


Hastings' main beach backs right onto the seafront of this established seaside resort town so you...

0.19 miles away

These acres of caverns conceal Hastings' exhilarating history of smugglers, bootleggers and warring...

0.21 miles away
A family amusement park and entertainment centre offering rides for children, a rollercoaster,...

0.26 miles away

Home to the Jerwood Collection of 20th/21st Century British Art. The Gallery also holds a range of...

0.28 miles away

A former fishermen's church by the old net shops, now a museum on local fishing with ship models,...

0.38 miles away

Maritime museum with 3000 years of historic treasures from local shipwrecks. Audiovisual show 'A...

0.39 miles away

Display of marine life with hundreds of marine creatures including sharks, rays, crabs and starfish...

0.42 miles away

This 109 acre park was originally laid out by Robert Marnock, a renowned landscape gardener, in...

0.52 miles away

A children's activity centre for children up to 12 years. There is also an outdoor play area with a...

0.53 miles away

"A SHOCKING new attraction for everyone fascinated by the dark world of CRIME"

0.55 miles away

The White Rock Theatre offers the very best in entertainment, from headlining comedians to live...

0.66 miles away

Displays of dinosaurs, wildlife, Native Americans, paintings, ceramics, features on John Logie...

0.81 miles away

Please note Ecclesbourne Glen is not accessible from the East Hill because of serious, and ongoing,...

1.08 miles away

1.59 miles away
Previous
Next