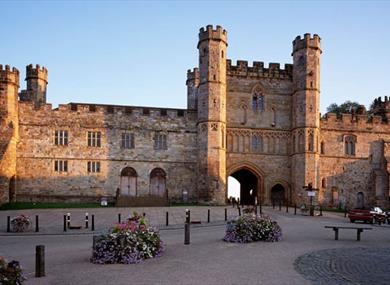 The town of Battle, site of the most famous battle in English history, is internationally known as part of 1066 Country. The beautiful town is built around the abbey which was erected on the site of the battle of 1066. To celebrate his victory, William built the imposing Battle where you can still see the very spot King Harold fell.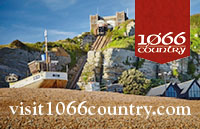 Also set on the battlefield is the 12th-century church of St. Mary the Virgin. There can be found a magnificent Romanesque nave, rare 14th-century wall paintings and the stunning Senlac commemorative stain glass window. Experience a more recent living history at the fascinating Yesterday's World. Here, you can step back through the ages, and enjoy bygone shops and room settings, displaying intriguing collectables and antiques.
Today, Battle is a thriving market town featuring Georgian and medieval cottages amongst a host of interesting shops, restaurants, historic pubs and tea-rooms. It is also the centre of the 31 mile 1066 Country walk between Pevensey Castle and ancient Rye, with its links to the coast at Bexhill and Hastings.
Things to do near Battle
In addition to Hastings and of course the Abbey and Battlefield for which the town is famous, these five tourist attractions are all within a 20 minute drive of Battle.
Coach parking in Battle: A coach park is available at the top of Battle High Street, next to Budgens supermarket. There is space for 12 coaches.
Find what's on near Battle with our Sussex events guide or explore the local towns and villages in the 'what's nearby' section below.