Portsmouth
Portsmouth Visitor Information Service
VIS and D-Day Museum
Clarence Esplanade
Portsmouth
Hants
PO5 3AA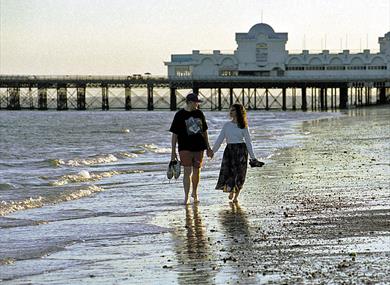 With a rich maritime and naval history, Portsmouth's fortunes have long been intimately tied to the sea. Even today, many of Portsmouth's most stunning features and most popular attractions are found near the harbour.
From the imposing Spinnaker Tower, to the Mary Rose Museum and historic ship HMS Victory, you'll find a huge range of things to see and do. Portsmouth Historic Dockyard is home to some of the most impressive historic ships in the world – with the remains of Henry VIII's Mary Rose and HMS Warrior 1860 both here.
The bustling Gunwharf Quays is one of the best shopping locations in the south, with dozens of big brands and stores to choose from (not to mention bowling alleys, cinemas and nightclubs) while Portsmouth Guildhall provides one of the south's premier entertainment venues.
Kids will love the Blue Reef Aquarium. On sunny days the whole family can follow the Old City Walls and enjoy an ice-cream on the seafront.
Shop till you drop in the wonderful Gunwharf Quays or enjoy the incredible views over the city from the top of the nearby Spinnaker Tower.
Visit the D-Day Museum to learn all about the incredible bravery and stories behind the D-Day Landings.
Don't miss the fantastic HMS Victory, Admiral Lord Nelson's flagship during the Battle of Trafalgar and one of the oldest and best preserved ships in the country.
In addition to its naval traditions, Portsmouth is also the birthplace of Charles Dickens - find out more about one of Britain's most famous literary figures at the Charles Dickens Birthplace Museum.
What's Nearby
Portsmouth Guildhall is one of the premier event and entertainment venues on the South Coast, with...

0.22 miles away

Portsmouth Museum is the museum of and for the people of Portsmouth with exciting and varied...

0.25 miles away

Year-round programme of solo, group and themed exhibitions of contemporary visual art, accompanied...

0.62 miles away

One of the South Coast's most popular shopping destinations, Gunwharf Quays is filled with almost...

0.64 miles away
View things differently at the top of Britain's best viewing tower – the stunning 170 metre tall...

0.7 miles away


Portsmouth is still the home of the modern Royal Navy and taking the Harbour Tour offers...

0.7 miles away

The dignified and beautiful Kings Theatre is one of the most elegant Edwardian playhouses to be...

0.73 miles away

Action Stations is a high-tech, interactive indoor attraction housed in Boathouse 6. The boathouse...

0.8 miles away

HMS Warrior 1860 was Britain's first iron-hulled, armoured warship and the pride of Queen...

0.84 miles away

The D-Day Museum tells the story of the D-Day Landings in World War Two and has as its centrepiece...

0.92 miles away

The National Museum of the Royal Navy Portsmouth brings history to life. It showcases treasures...

0.93 miles away

Pay a visit to the small terraced house of 1805, in which the famous novelist Charles Dickens was...

0.94 miles away

There have been many celebrated warships in Britain's naval history but HMS Victory can justifiably...

0.97 miles away

The Mary Rose is the only 16th century warship on display anywhere in the world. The purpose-built...

0.97 miles away

Enter the Blue Reef Aquarium and take a safari from the depths of the Solent to the tropical coral...

0.97 miles away

HMS M.33 is not only the sole remaining British veteran of the bloody Dardanelles Campaign of...

1.01 miles away
Previous
Next