Kings Theatre
Albert Road
Southsea
Hampshire
PO5 2QJ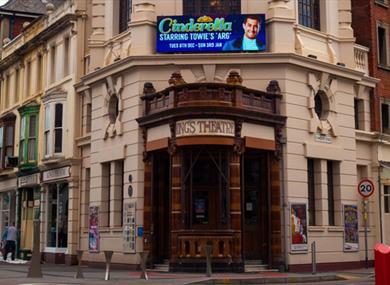 The dignified and beautiful Kings Theatre, situated on Albert Road in Southsea, is one of the best examples of an elegant Edwardian playhouse to be found in the British Isles with many of its original features and Italian Renaissance style of décor still intact.

The theatre, a result of the vision and business acumen of John Waters Boughton and the architectural prowess of Frank Matcham, one of the greatest theatre architects of his time, opened in 1907 in "a most glittering of occasions".

Since that night numerous productions have visited the Kings - the theatre was the venue for the opening of the famous 'Aldwych Farces' and in 1974, Director Ken Russell filmed the Pinball Wizard sequence of the rock opera 'Tommy' featuring The Who and Elton John here.

Many stars of the stage and screen have performed at the Kings including Sarah Bernhardt, Noel Coward, Sean Connery, Rex Harrison, Spike Milligan, Ivor Novello, Sybil Thorndike and HB Irving to name but a few of the greats of the last century and the theatre is proud to include Dillie Keane, Hugh Dennis and Lisa Reilly as their current Patrons.

Since 2003 the theatre has been operated by Kings Theatre Trust Ltd and over £2million has been spent on an extensive restoration programme to carry out vital repairs, restoration and improve facilities.

The Kings has a full and varied programme of shows throughout the year to suit all tastes including Musicals, Ballet, Opera, Dance, Music and Tribute acts, Drama, Comedy, Family Shows, Film and of course traditional Pantomime!
Awards
Regional and Miscellaneous -

Tourism South East Member

2017
Opening Times
2017
(1 Jan 2017 - 31 Dec 2017)
Prices
Prices and tickets vary by show and performance – please see our website or brochure for all prices.
Concession prices available for some shows.