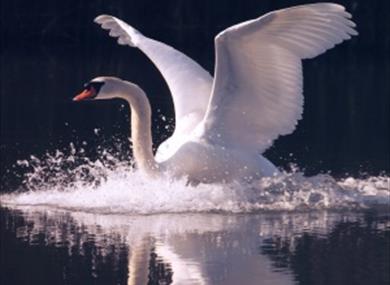 This 90 acre (36 ha) site, created from a former brickworks, has level surfaced paths which provide an easy-going lakeside walk.
Offering a selection of outdoor activities including an adventure-style play area, orienteering course and tuition in canoeing, sailing and windsurfing, the Park also includes a beautiful wildlife area, 'The Quarry', which is managed for nature conservation and supports wildlife such as lizards, Kingfishers, Nightingales and various butterflies and dragonflies.
The adjacent Downs Link Bridleway passes through the Park, making it a base to explore further afield on foot, bike, or horse. Visitor Centre and Cafe: the Centre offers information, toilets and a cafe and open every weekend and most days during the school holidays, with limited opening times during the winter months.
Events and Countryside Activities
A full programme of activities is available throughout the year for both children and adults at Southwater Country Park. Contact the Country Park for a full programme or click on Countryside Events in the left margin for further details.
Dog Owners
Between April and September dos are welcome, but owners must keep their dogs on leads whilst walking in Southwater Country Park. This is to protect the local wildlife and is in the interest of other users of the Park as well as for the dog's own safety.
Find out more about things to do in Sussex or discover more country parks in South East England.
Southwater Country Park Reviews (from Google)
Average rating 4.25/5 from 4 reviews.
A lovely park, good for walks with family and/dogs. Great play area. Nice little path ways. Only thing put me off was a number of doggie bags thrown around the park, too bad some people don't respect nature, maybe a few more bins placed around could help the issue.
Orsi, 2017 - 4 stars
Beautiful location, great dinosaur themed play park. Café is adequate but could usefully be nearer to the play park!! Shame you have to pay for parking now
Debbie, 2017 - 4 stars
Lovely location for families. Open water swimming too.
Jason, 2017 - 4 stars
Great place for kids. Lovely walks and you can hire canoes. The cafe does lovely food and drinks not to mention ice creams!
Andy, 2016 - 5 stars
What's Nearby
Southwater Watersports are based in the beautiful surrounding of Southwater Country Park and have...

0.06 miles away

This 90 acre (36 ha) farm is managed as a livestock farm, with numerous footpaths around the site,...

2.46 miles away

A large collection of birds of prey housed in aviaries typical of their natural habitat set in a...

2.88 miles away

Housed in a 16th century building, the museum offers over 100 years of collecting history. From...

2.96 miles away
Previous
Next