Broughton Castle
Broughton
Banbury
Oxfordshire
OX15 5EB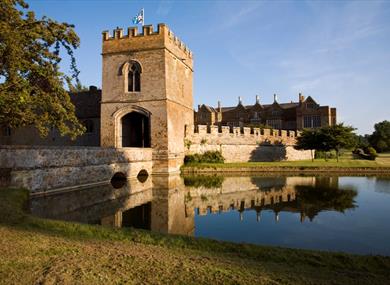 Broughton Castle is essentially a family home lived in by Lord and Lady Saye and Sele and their family. The original
medieval manor house, of which much remains today, was built in about 1300 by Sir John de Broughton.
It stands on an island site surrounded by a three acre moat. The castle was greatly enlarged between 1550 and 1600, at which time it
was embellished with magnificent plaster ceilings, splendid panelling and fine fireplaces.
In the 17th century William, 8th Lord Saye and Sele, played a leading role in national affairs. He opposed Charles 1's efforts to rule without Parliament and Broughton became a secret meeting place for the King's opponents. During the Civil War William raised a regiment and he and his four sons all fought at the Battle of Edgehill. After the battle the Castle was besieged and captured.
Arms and armour of the Civil War period and from other periods are displayed in the Great Hall. Visitors may also se the gatehouse, gardens and park together with the nearby 14th century parish church of St Mary, in which there are many family tombs, memorials and hatchments.
Awards
Regional and Miscellaneous -

Tourism South East Member

2017
Opening Times
2018

(1 Apr 2018 - 30 Sep 2018)

Day
Times
Wednesday

14:00

17:00

Sunday

14:00

17:00

Bank Holiday

14:00

17:00
* Any time for booked parties and groups by prior arrangement.
What's Nearby
The brewery tours run throughout the day with an experienced local guide, it finishes with a...

5.41 miles away

Extensive earthworks conceal the remains of a 12th Century castle.
Open during daylight hours...

5.61 miles away

OS GRID REF: SP522342
College Farm Fishing is a family run and owned fishing lake providing...

6.59 miles away

National Trust Property.
Home of the Holbech family since 1684, reconstructed in the early 18th...

6.84 miles away

Situated in an Area of Outstanding Natural Beauty famous for its horticultural heritage and set in...

7.7 miles away

Stunning venue set in 250 acres of wooded estate - facilities include a conference suite that is...

7.8 miles away

Children will love Fairytale Farm just outside Chipping Norton - a sensory and learning wonderland...

8.62 miles away

Just 20 minutes from Banbury or Oxford takes you to the idyllic Heyford Wharf with its convenient...

9.4 miles away


Sulgrave Manor is a superb example of a modest Manor House and Garden of the time of Shakespeare,...

9.82 miles away

Try something different - take a Llama to lunch! Discover the beautiful Northamptonshire...

11.85 miles away


Unchanged for 400 years

A rare gem of a Jacobean country house, Chastleton House was built...

12.1 miles away

Charlbury Museum is an independent museum, run entirely by volunteers. Its five rooms are crammed...

12.38 miles away
Previous
Next