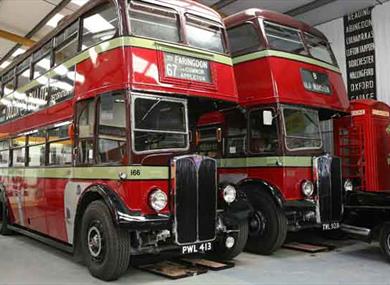 As well as over 40 buses on display, there are other numerous exhibits adding a period feel. Visitors can enter several of the vehicles and on the 1st and 3rd Sundays of the month (April to October) and at special events there is a free vintage bus ride.

The Oxford Bus Museum has its origins in the Oxford Bus Preservation Syndicate, established in 1967 by a group of enthusiasts who had the foresight to realise that vehicles of potential significance to future generations should be saved before they were lost for all time. Beginning with just one vehicle – which can still be seen and ridden on – the collection has grown steadily, with over 30 buses now on display.

Since the end of 2004 the Museum has also been home to another exhibition – the Morris Motors Museum, telling the story of how cars and commercial vehicles were produced at Cowley in Oxford. In addition to the impressive display of vintage Morris vehicles representing the earliest to the last, you will see photographs, drawings and all kinds of memorabilia. Entry is included in the Oxford Bus Museum admission price.

The Museums are open on Sundays, Wednesdays and most Bank Holidays throughout the year (except Christmas and Boxing Day). From May to September, it is also open on Saturdays. Open from 10.30am to 4.30pm, last admission 3.30pm.