Blenheim Palace
Blenheim Palace Grounds
Woodstock
Oxfordshire
OX20 1PS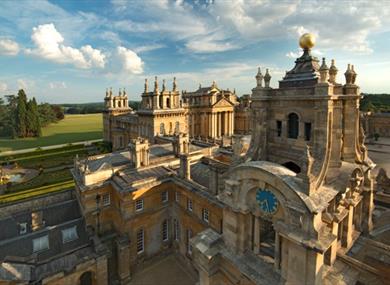 Receive a warm welcome into the home of the 12th Duke and Duchess of Marlborough and the birthplace of Sir Winston Churchill. Wonder at this masterpiece of 18th century baroque architecture, which houses some of the finest antique collections in Europe. Take a tour of the State Rooms and admire the portraits, tapestries and exquisite furniture while learning about the 300-year history of this National Treasure.

Explore this World Heritage Site amongst over 2000 acres of 'Capability' Brown landscaped parkland. Take a stroll up to the Grand Cascades or around the Lake to admire some of the finest views in England, looking out for the historical monuments such as the Column of Victory, Grand Bridge and Temple of Diana. Discover an array of Formal Gardens, including the Rose Garden, Water Terraces and Secret Garden. Delight in our family friendly Pleasure Gardens, reached by miniature train, with a giant hedge maze, butterfly house and adventure playground.

Blenheim Palace is not only an iconic part of history, but also a living, changing experience with a wealth of sporting and cultural events, themed exhibitions and tours throughout the year.

Blenheim Palace is a timeless pleasure, and offers visitors a precious time, every time.
Our Charity and Gift Aid:
As a registered charity your admission fee makes a big contribution to the amount of restoration and conservation we can achieve every year, securing the future of this World Heritage Site.
By agreeing to donate your Palace, Park and Gardens admission on arrival you can benefit from converting to a free Annual Pass*. To help us achieve even more we ask that you kindly agree to Gift Aid* your donation when you come to claim your Annual Pass, which makes your donation go even further.
*Terms & Conditions apply
Awards
ETC Quality Attractions -

Quality Assured Visitor Attraction

2014

Green Tourism Business Scheme -

Green Business Gold

2013

Regional and Miscellaneous -

TripAdvisor - Certificate of Excellence

2013

Regional and Miscellaneous -

Tourism South East Member

2017

Regional and Miscellaneous -

Beautiful South Awards Winners 2016/17 – Bronze

2017

Regional and Miscellaneous -

Beautiful South Awards Winners 2017/18 - Gold

2018
Opening Times
East Courtyard Visitor Centre

(1 Jan 2017 - 31 Dec 2017)

Day
Times
Monday

09:30

17:00

Tuesday

09:30

17:00

Wednesday

09:30

17:00

Thursday

09:30

17:00

Friday

09:30

17:00

Saturday

09:30

17:00

Sunday

09:30

17:00

Bank Holiday

09:30

17:00
The Park

(9 Jan 2017 - 31 Dec 2017)

Day
Times
Monday

10:00

18:00

*

Tuesday

10:00

18:00

*

Wednesday

10:00

18:00

*

Thursday

10:00

18:00

*

Friday

10:00

18:00

*

Saturday

10:00

18:00

*

Sunday

10:00

18:00

*

Bank Holiday

10:00

18:00

*
The Formal Gardens

(12 Feb 2017 - 31 Dec 2017)

Day
Times
Monday

09:00

18:00

*

Tuesday

09:00

18:00

*

Wednesday

09:00

18:00

*

Thursday

09:00

18:00

*

Friday

09:00

18:00

*

Saturday

09:00

18:00

*

Sunday

09:00

18:00

*

Bank Holiday

09:00

18:00

*
The Palace

(12 Feb 2017 - 31 Dec 2017)

Day
Times
Monday

10:30

17:30

*

Tuesday

10:30

17:30

*

Wednesday

10:30

17:30

*

Thursday

10:30

17:30

*

Friday

10:30

17:30

*

Saturday

10:30

17:30

*

Sunday

10:30

17:30

*

Bank Holiday

10:30

17:30

*
The Pleasure Gardens

(12 Feb 2017 - 31 Dec 2017)

Day
Times
Monday

10:30

16:30

Tuesday

10:30

16:30

Wednesday

10:30

16:30

Thursday

10:30

16:30

Friday

10:30

16:30

Saturday

10:30

16:30

Sunday

10:30

16:30

Bank Holiday

10:30

16:30
The Palace

(1 Jan 2018 - 11 Feb 2018)

Day
Times
Monday

10:30

16:30

*

Tuesday

10:30

16:30

*

Wednesday

10:30

16:30

*

Thursday

10:30

16:30

*

Friday

10:30

16:30

*

Saturday

10:30

16:30

*

Sunday

10:30

16:30

*
The Formal Gardens

(1 Jan 2018 - 11 Feb 2018)

Day
Times
Monday

10:30

16:30

*

Tuesday

10:30

16:30

*

Wednesday

10:30

16:30

*

Thursday

10:30

16:30

*

Friday

10:30

16:30

*

Saturday

10:30

16:30

*

Sunday

10:30

16:30

*
* Opening times will vary for different areas, please see our website for more details.
Open daily all year (except Christmas day)

Park closes at dusk each day
Dates and times marked with a '*' are provisional and may be subject to change
Prices
| Ticket Type | Ticket Tariff |
| --- | --- |
| Palace, Park & Gardens - Adult | £24.90 per ticket |
| Palace, Park & Gardens - Child (5-16) | £13.90 per ticket |
| Palace, Park & Gardens - Concession | £20.90 per ticket |
| Palace, Park & Gardens - Family (2+2 or 1+3) | £59.90 per ticket |
| Park & Gardens - Adult | £15.30 per ticket |
| Park & Gardens - Child (5-16) | £7.10 per ticket |
| Park & Gardens - Concession | £11.50 per ticket |
| Park & Gardens - Family (2+2 or 1+3) | £41.00 per ticket |
Concession rates are only available from Monday-Friday