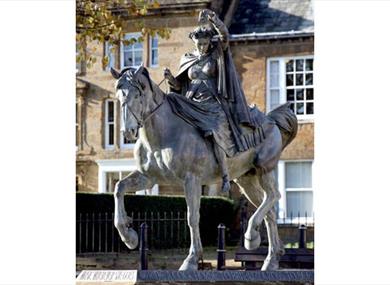 An important centre for wool trading in the 13th Century, Banbury developed into a small industrial hub after the Oxford Canal was opened in 1790.
Today, Banbury is a lively town with a thriving commercial core and you'll find charming streets and historic buildings alongside new developments here - such as the Castle Quay Shopping Centre in the recently regenerated Oxford Canal area.
However for many people the first thing that springs to mind when Banbury is mentioned is "Ride a Cock Horse to Banbury Cross". In fact, the "fine lady" from that beloved nursery rhyme (some say it was Lady Godiva, some say Elizabeth I) is immortalised as a statue in the town centre. As for the Banbury Cross, the original was destroyed in the late 1500s, but a replacement erected in 1859 still stands today.
Banbury is a wonderful place for a short break, and the perfect base for exploring the surrounding Oxfordshire countryside.
Things to do in Banbury
Float down the Oxford Canal in a colourful narrowboat, stopping off at Tooley's Boat Yard for an ice-cream and to find out about Banbury's industrial history.
Tuck into an authentic Banbury Cake – a juicy fruit and pastry delicacy that's rightly famous around the world.
Take a day trip to the Oxfordshire Cotswolds and walk through stunning green landscapes (perhaps stopping at a village pub for a spot of lunch).
Indulge in a spot of shopping at one of South East England's top shopping destinations at Bicester Shopping Village, just a short drive south of Banbury.
Visit Broughton Castle, a 13th Century manor house fortified by a three acre moat
Find more things to do near Banbury in our guide to Oxfordshire or see what's on in Banbury this weekend with the Oxfordshire events guide.
For more places to visit near Banbury, take a look at surrounding towns and villages in the 'What's Nearby' listings below.
What's Nearby
The Mill Arts Centre is a delightful family-friendly canal-side venue based in a converted heritage...

0.31 miles away


Broughton Castle is essentially a family home lived in by Lord and Lady Saye and Sele and their...

2.63 miles away

Walk the Landscape is a family company, based near Banbury, providing walking holidays and hiking...

3.7 miles away

Reception barn, leading to natural environment for hundreds of birds and animals. Oxfordshire...

5.54 miles away
National Trust Property.
Home of the Holbech family since 1684, reconstructed in the early 18th...

5.6 miles away

OS GRID REF: SP522342
College Farm Fishing is a family run and owned fishing lake providing...

5.8 miles away

Extensive earthworks conceal the remains of a 12th Century castle.
Open during daylight hours...

6.05 miles away

Stunning venue set in 250 acres of wooded estate - facilities include a conference suite that is...

7.02 miles away


Sulgrave Manor is a superb example of a modest Manor House and Garden of the time of Shakespeare,...

7.2 miles away

The brewery tours run throughout the day with an experienced local guide, it finishes with a...

8.03 miles away

Try something different - take a Llama to lunch! Discover the beautiful Northamptonshire...

9.24 miles away

NATIONAL TRUST PROPERTY
Elizabethan Manor House, home of the Dryden family. Unaltered since 1710....

9.78 miles away

Just 20 minutes from Banbury or Oxford takes you to the idyllic Heyford Wharf with its convenient...

10.06 miles away

Situated in an Area of Outstanding Natural Beauty famous for its horticultural heritage and set in...

10.17 miles away

Children will love Fairytale Farm just outside Chipping Norton - a sensory and learning wonderland...

11.1 miles away

Finest Hour provides luxury gift vouchers and aerobatic flying experiences, which can be redeemed...

13.2 miles away
Previous
Next