SeaCity Museum
Havelock Road
Southampton
Hampshire
SO14 7FY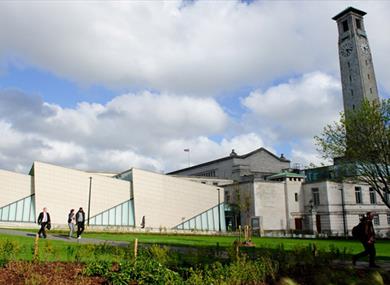 Southampton's Titanic Story. As the port from which the 1912 White Star liner Titanic set sail, Southampton is at the very heart of the Titanic story. Many lives and families were affected by the tragedy.
This exhibition tells their story. Explore the 1:25 scale interactive model of the ship, experience the 'Disaster Room', and immerse yourself in the 1930s court room which depicts the Inquiry held in London after the disaster.'
Southampton - Gateway to the World:
Using the city's unique historic collections, this gallery recounts the stories of people who have departed from or arrived in the port of Southampton over the last 250,000 years, from the earliest settlers to the stories of people living in the city today.

Access
People with mobility impairment can access all areas of the building via the lift. The only public area in the building not accessible is the clock tower, accessed by a steep staircase. Access for children's pushchairs / buggies is possible in most areas except the clock tower.

The Galley Cafe
You can enjoy the museum café without needing to pay for admission to the rest of the building. The café is conveniently located on the ground floor.

Ideal for families
There are many hands-on activities and interactive exhibits in our galleries to stimulate and inspire the whole family. Buggy park and baby changing facilities are available.

Discover more
We can provide pre-booked guided tours for all ages, and a variety of learning activities for colleges, schools and community groups. Please contact the Learning Officer on 023 8091 5730 or email museums.education@southampton.gov.uk for more information.
SeaCity Museum Reviews (from Trip Advisor)
Average rating 4.2/5 from 1,000 plus reviews
The museum is divided into two areas. One side is all about Southampton being a gateway to the World and the other is about Titanic.
Thousands of people have passed through Southampton over the last 200000 years. Fascinating stories of refugees, foreign workers and trade. Plenty of hands on activities. In the Titanic Exhibition one comes away with a real sense of the loss to Southampton of so many if its workers. Its a story not an exhibition of lots of artefacts. Cleverly displayed exhibits and wall/floor pictures with hands on activities. Court case and setting very effective. Well worth a visit. Reasonable price. Cafe and shop.
Charlotte, 2017 - 5 stars
I came here while staying in Southampton. It's a modern museum and well laid out; not cluttered. I liked that the Titanic exhibition focused on on the people worked on the ship. The cafe does good coffee and baked potatoes.
Alison, 2017 - 4 stars
Seeing all the memories and names and faces of the people who were involve in the Titanic, it gives you a different feeling , a sadness and you wonder what their last moments were. It is an awesome place to visit and realized Southampton was the place where the Titanic sailed from.
Florian, 2017 - 5 stars
Lots of titanic facts and displays. Besides that offers a lot of information about the history of city harbour and trade. Well positioned to city center. Worth seeing but expected a lot more from the titanic expo.
Andrea, 2017 - 4 stars
I really enjoyed touring this museum. There were lots of artifacts and displays. The gift shop was lovely but expensive.
We almost didn't get to visit. Found it difficult to find. Only a third effort allowed us to find Sea City. Better signage would have helped.
Delores, 2017 - 5 stars
It's an awesome place to visit the titanic area specifically is awesome with a few interactive games that will keep the small and big kids happy... It's surprisingly fair priced with us paying about £20 for 3 people. I was quite pleasantly surprised.
Reem, 2017 - 4 stars
It's good if you are interested in titanic... but if you looking for something more about ships or making or sea related, then it's not for you. Good area to move around, detailed information about Southampton ship making history~ bright and clean
Cat, 2017 - 3 stars
More
Opening Times
2017

(1 Jan 2017 - 31 Dec 2017)

Day
Times
Monday

10:00

17:00

*

Tuesday

10:00

17:00

*

Wednesday

10:00

17:00

*

Thursday

10:00

17:00

*

Friday

10:00

17:00

*

Saturday

10:00

17:00

*

Sunday

10:00

17:00

*
* Closed Christmas Day, Boxing Day and New Years Day
Dates and times marked with a '*' are provisional and may be subject to change
Prices
Please see the SeaCity website at http://www.seacitymuseum.co.uk/?page_id=139 for pricing information depending on the exhibition currently taking place
What's Nearby
Uncover over 800 years of history in the heart of Southampton's Old Town. Tudor House and Garden...

0.49 miles away

Sensitive restoration has returned this house to its mid 14th century appearence steeped in...

0.63 miles away

Unique display of aircraft,engines,models and artefacts connected to the Solent area including a...

0.92 miles away

Shieldhall was laid down in October 1954 and entered service in October 1955. Built by Lobnitz & Co...

0.94 miles away

SWAC offers courses in sailing, powerboating and theory shorebased courses. The purpose built...

1 miles away

Cruises in Southampton Water and The Solent. The Ocean Scene can carry up to 340 passengers on high...

1 miles away

This is the stunning art house cinema, overlooking the Ocean Village Marina, which shows...

1.11 miles away

First Class Sailing offers a full range of RYA practical sailing courses, including Competent Crew,...

1.18 miles away

Tightloops is the total fly fishing experience company for those holidaying in Hampshire and...

1.85 miles away

Nuffield is a multi-award winning professional producing theatre company based in Southampton. Open...

1.87 miles away

Woodmill Outdoor Activities Centre offers activities/courses in kayaking, canoeing, climbing and...

2.27 miles away

Go Ape lands at Itchen Valley Country Park, nestled in 440 acres of woodland and meadows adjoining...

3.52 miles away
Previous
Next