Southampton Medieval Merchants House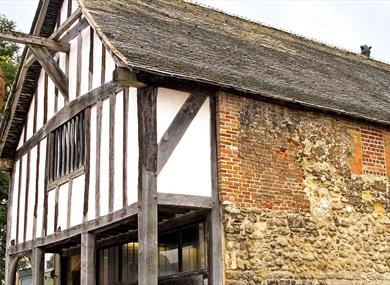 John Fortin, a merchant who traded with Bordeaux, started building this house c.1290. A residence and place of business, it stood on one of the busiest streets in medieval Southampton.

It has now been restored to its mid 14th century appearence by the removal of later additions. The house stands near the medieval town wall, built to defend Southampton against seabourne attacks. Netley Abbey, Calshot Castle and Hurst Castle are all within reasonable travelling distance.
What's Nearby
Cruises in Southampton Water and The Solent. The Ocean Scene can carry up to 340 passengers on high...

0.56 miles away

SeaCity Museum tells the story of the people of Southampton, their fascinating lives and the city's...

0.63 miles away

SWAC offers courses in sailing, powerboating and theory shorebased courses. The purpose built...

0.66 miles away

O2 Guildhall Southampton is the South's largest multipurpose entertainment venue. Hosting some of...

0.7 miles away

The art gallery attracts art-lovers, curious amateurs as well as those who simply enjoy the...

0.72 miles away

The Mayflower Theatre in Southampton is one of the largest theatres in South East England and...

0.75 miles away

This is the stunning art house cinema, overlooking the Ocean Village Marina, which shows...

0.77 miles away

First Class Sailing offers a full range of RYA practical sailing courses, including Competent Crew,...

1.35 miles away

Nuffield is a multi-award winning professional producing theatre company based in Southampton. Open...

2.24 miles away

Tightloops is the total fly fishing experience company for those holidaying in Hampshire and...

2.46 miles away

Woodmill Outdoor Activities Centre offers activities/courses in kayaking, canoeing, climbing and...

2.76 miles away

Once the site of one of the largest Victorian military hospitals. Royal Victoria Country Park is...

3.31 miles away
Previous
Next