Royal Victoria Country Park
Netley Abbey
Southampton
Hampshire
SO31 5GA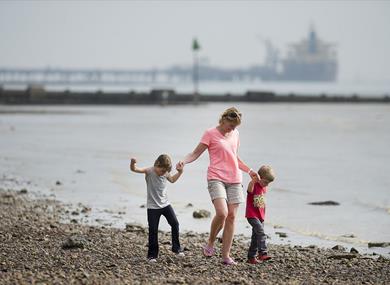 Once the home of the biggest military hospital in the Victorian Empire, this 200-acre site is now ideal for relaxation and leisure.
Offering fantastic views across Southampton Water, Royal Victoria Country Park is a great place to watch the busy shipping coming in and out of Southampton. The park's ancient woodlands, large open spaces, boardwalks and ponds offer something for everyone.
There are a number of picnic areas throughout the site and family BBQ areas can be hired. The Café in the Park serves a wide variety of hot and cold food and children will love taking a ride on the miniature railway or burning off steam in the picturesque, fully accessible play areas.
The iconic Chapel is currently undergoing a major refurbishment programme, thanks to £2.68 million investment from Hampshire County Council and the Heritage Lottery Fund.
Visitors will be able to discover the fascinating history of the site, which has links to Florence Nightingale and Queen Victoria, in an exciting new exhibition and take tours to the top of the chapel tower. The grounds will have artistic interpretation and information boards that will demonstrate the size, length and importance of the hospital in both local and national history.
There is an exciting programme of events and activities taking place throughout the year – please see our Facebook page or website for more information.
Royal Victoria Country Park Reviews (from Google)
Average rating 4.6/5 from 8 reviews
Love this place. We live about 10 miles away but will make the effort to drive here to walk our dogs. The mixture of woodland and open spaces is perfect. We also attend the caravan rallies held there in summer. Lovely to wake up in such beautiful surroundings. Park is well kept and clean. Also has great facilities for families.
Sandra, 2017 - 5 stars
Great park, the playground is fabulous and there are lots of great little trails. You only pay for parking. Wonderful spot for a picnic and a bit of a ramble! Dogs are welcome.
Sophie, 2017 - 5 stars
Great county park with loads of space, friendly staff and good facilities. Clean toilets too. Our young son loves the play park and miniature railway!
Stuart, 2017 - 5 stars
Regular dog walker to the park. One nice days of best to get there early - especially for walking the dogs. Opening times differ in summer and winter. Great facilities for food and families and an ideal place to hire a BBQ site. This history of the site is wonderful too - my favourite place in Southampton!
Helen, 2017 - 5 stars
Lovely place to go for a walk! Plenty to do for all the family, has large open spaces or secluded wooded areas. There is a kids playground, a tea room selling hot / cold drinks and food, a miniature railway and a beach front. Has a fair bit if WW1 and WW2 history as it was the site of a hospital for injured troops in WW1, there is a military graveyard at the back of the park (well worth a visit). Very popular with families and dog walkers. Close to Netley railway station and public transport.
Matthew, 2017 - 4 stars
Only cycled through, but as my first day touring the UK hadn't been going well it was exactly the reminder I needed that this is a lovely island.
Jon, 2017 - 4 stars
Great place to walk the dog or take the kids, pleanty of open space and the beach is nice although it's a stone beach. There is a park for the kids and a ride on train, parking prices aren't too bad, and there is a cafe and a shop.
Daniel, 2017 - 4 stars
Fantastic outdoor space, especially when the weather is good. The centrepiece is the chapel of the former hospital which is current frozen mid-renovation due to the company doing the work going bust. There are miles of walks in the woods and along the beach - be sure to check out the cemetery in the woods too.
Ryan, 2017 - 5 stars
Opening Times
Winter

(1 Nov 2017 - 28 Feb 2018)

Day
Times
Monday

08:00

17:00

*

Tuesday

08:00

17:00

*

Wednesday

08:00

17:00

*

Thursday

08:00

17:00

*

Friday

08:00

17:00

*

Saturday

08:00

17:00

*

Sunday

08:00

17:00

*
Summer

(1 Mar 2018 - 31 Oct 2018)

Day
Times
Monday

08:00

21:00

*

Tuesday

08:00

21:00

*

Wednesday

08:00

21:00

*

Thursday

08:00

21:00

*

Friday

08:00

21:00

*

Saturday

08:00

21:00

*

Sunday

08:00

21:00

*
Dates and times marked with a '*' are provisional and may be subject to change
Prices
| Ticket Type | Ticket Tariff |
| --- | --- |
| Park admission | Free |
Parking charges
Monday to Sunday
• Up to one hour only £1.80
• Over one hour £4.00
• Season tickets £49 pa available from the gift shop
You can buy parking tickets and book all Royal Victoria Country Park events for the year at the gift shop
What's Nearby
A beautiful setting for fly-fishing in rural Sarisbury Green. Clean weed-free water with good...

2.01 miles away

Bursledon Windmill is currently closed for restoration until November and so not currently open to...

2.22 miles away

This is the stunning art house cinema, overlooking the Ocean Village Marina, which shows...

2.68 miles away

Enjoy a great family day out at Manor Farm & Country Park.

Meet friendly farm animals as you...

2.74 miles away
SWAC offers courses in sailing, powerboating and theory shorebased courses. The purpose built...

2.78 miles away

Cruises in Southampton Water and The Solent. The Ocean Scene can carry up to 340 passengers on high...

2.79 miles away

The only remaining steam driven, Victorian brickworks in the country. Now a museum of bricks and...

2.8 miles away

Shieldhall was laid down in October 1954 and entered service in October 1955. Built by Lobnitz & Co...

2.86 miles away

Unique display of aircraft,engines,models and artefacts connected to the Solent area including a...

2.87 miles away

First Class Sailing offers a full range of RYA practical sailing courses, including Competent Crew,...

3.24 miles away

Sensitive restoration has returned this house to its mid 14th century appearence steeped in...

3.31 miles away

SeeSouthampton – The home of Southampton's most recently established tour guiding group for...

3.38 miles away

Uncover over 800 years of history in the heart of Southampton's Old Town. Tudor House and Garden...

3.43 miles away

SeaCity Museum tells the story of the people of Southampton, their fascinating lives and the city's...

3.79 miles away

O2 Guildhall Southampton is the South's largest multipurpose entertainment venue. Hosting some of...

3.8 miles away

The art gallery attracts art-lovers, curious amateurs as well as those who simply enjoy the...

3.83 miles away
Previous
Next