Rochester Castle
The Keep
Rochester
Kent
ME1 1SW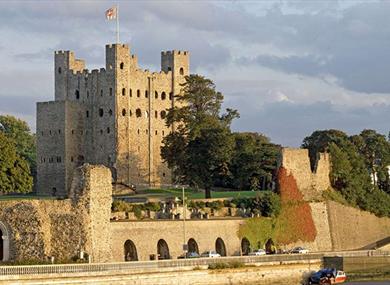 The great keep of Rochester Castle towers over the River Medway, dominating the skyline together with its inseparable twin, the magnificent cathedral.

Rochester Castle is one of the best preserved and finest examples of Norman architecture in England. Its great keep, square, massive and one of the tallest in the country, measures 113 feet high, 70 feet square and has walls 12 feet thick in places. It was on or close to the present castle site that the Romans built their first fort to guard the bridge carrying their legions over the river on their way from Dover to London and beyond. Centuries later, in 1087, Bishop Gundulf – one of William the Conqueror's finest architects – began the construction of today's castle, making use of what remained of the original Roman city walls. The great keep was built by William de Corbeil, Archbishop of Canterbury, to whom Henry I granted custody of the castle in 1127.

The castle has a chequered history, having been subjected to siege three times and in 1215 partly demolished by King John, who gained entry by undermining the south-east tower, using the fat from 40 pigs to set fire to the pit props. Today, visitors can see the rebuilt round tower, contrasting with the square towers of the original Norman castle. A model has been installed in the castle's chapel showing how the castle would have looked in the 14th century.

For a guided tour, an audio guide interpretation is available at a nominal charge of £1 and is available in English, French, German and Dutch.
Opening Times
2017
(1 Jan 2017 - 31 Dec 2017)
* Open 10am to 6pm April to September and 10am to 4pm October to March. Last admission 45 minutes before closing.
Prices
| Ticket Type | Ticket Tariff |
| --- | --- |
| Adult | £6.00 per ticket |
| Concession / Child | £3.90 per ticket |
| Family | £16.30 per ticket |
English Heritage members free (except during special events).
What's Nearby
Discover the history of Medway from pre-historic times to the present day at the Guildhall Museum...

0.1 miles away

Consecrated in AD604, the present building dates from 1080. A blend of Norman and Gothic...

0.11 miles away

The Huguenot Museum tells the story of Britain's first refugees: the skills they brought to the UK,...

0.2 miles away

Situated in the heart of historic Rochester, Eastgate House featured in the work of Charles Dickens.

0.28 miles away
Fun, original and just a little wacky, Diggerland Kent is sure to provide one of the most memorable...

0.71 miles away

A 13th century great chamber, on a vaulted undercroft, of a manor house of the Knights Templar.

0.72 miles away

St Peter's Church Sandwich

0.73 miles away

Formerly Chatham Town Hall, The Brook Theatre is a hive of entertainment, activity and learning.


1.1 miles away

Located in the heart of Chatham town centre, this beautiful 965-seat venue is already home to a...

1.12 miles away

2016 is a year of continuous discovery and exploration at The Historic Dockyard Chatham, one of...

1.13 miles away

There is something for all the family. Zulu War items, Boer War, World Wars I and II, planes,...

1.5 miles away

This attractive, turreted castle is set in a picturesque village area that is backed by rolling,...

1.57 miles away

Oare Gunpowder Works - Gunpowder was manufactured at Oare for several centuries on a site that has...

1.84 miles away


The Earls of Darnley were usually buried in Westminster Abbey, but by the late 18th century, their...

2.78 miles away

Capstone Farm Country Park is one of Medway's finest green spaces, offering wonderful opportunities...

3.1 miles away

Chatham Ski Centre has the longest artificial slope in the South East and is the premier...

3.47 miles away
Previous
Next