Guildhall Museum
High Street
Rochester
Kent
ME1 1PY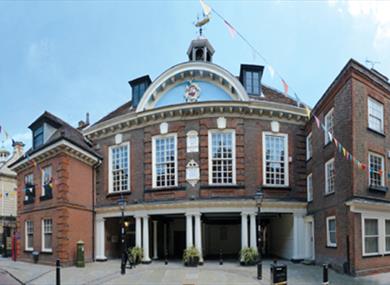 The Rochester Guildhall was built in 1687 and is one of the finest 17th-century civic buildings in Kent.

Its staircase and main hall have magnificent plaster ceilings, given in 1695 by Admiral Sir Cloudsley Shovell, who was the Member of Parliament for the city of Rochester at the time. Outside, mounted on the roof, is an amazing weather vane in the form of a fully rigged 18th-century warship. This is 1.52m tall and weighs just under 51kg. It is made of gilded copper and lead alloy and has weathered the ever-changing climate since 1780.

The museum was founded in 1897, in honour of Queen Victoria's diamond jubilee. It was first set up in Eastgate House further along the High Street and was moved into the Guildhall in 1979.

The collections follow a timeline through Medway's history and are housed in two separate buildings, along with a small gift shop. Highlights of the displays include:

• a full-size reconstruction of part of a Medway prison hulk;
• a 200,000 year-old axe that visitors can touch;
• a wide range of domestic artefacts from Darenth Roman villa;
• the most complete set of 18th-century cabinet maker's tools in the world;
• a model of Rochester Castle under siege;
• a Victorian drawing room and kitchen;
• a large selection of paintings and prints of the area;
• a full programme of temporary exhibitions;
• the Dickens Discovery Room.
Opening Times
2017

(1 Jan 2017 - 31 Dec 2017)

Day
Times
Monday
Tuesday

10:00

17:00

*

Wednesday

10:00

17:00

*

Thursday

10:00

17:00

*

Friday

10:00

17:00

*

Saturday

10:00

17:00

*

Sunday

10:00

17:00

*
* 10:00 - 17:00 every day except Mondays
Dates and times marked with a '*' are provisional and may be subject to change
Prices
| Ticket Type | Ticket Tariff |
| --- | --- |
| Admission | Free |
Note: Prices are a guide only and may change on a daily basis.
What's Nearby
One of the finest keeps in England. Also the tallest, partly built on the Roman city wall. Good...

0.1 miles away

Consecrated in AD604, the present building dates from 1080. A blend of Norman and Gothic...

0.14 miles away

The Huguenot Museum tells the story of Britain's first refugees: the skills they brought to the UK,...

0.21 miles away

Situated in the heart of historic Rochester, Eastgate House featured in the work of Charles Dickens.

0.3 miles away
Fun, original and just a little wacky, Diggerland Kent is sure to provide one of the most memorable...

0.61 miles away

St Peter's Church Sandwich

0.77 miles away

A 13th century great chamber, on a vaulted undercroft, of a manor house of the Knights Templar.

0.79 miles away

2016 is a year of continuous discovery and exploration at The Historic Dockyard Chatham, one of...

1.06 miles away

Formerly Chatham Town Hall, The Brook Theatre is a hive of entertainment, activity and learning.


1.07 miles away

Located in the heart of Chatham town centre, this beautiful 965-seat venue is already home to a...

1.11 miles away

There is something for all the family. Zulu War items, Boer War, World Wars I and II, planes,...

1.43 miles away

This attractive, turreted castle is set in a picturesque village area that is backed by rolling,...

1.47 miles away

Oare Gunpowder Works - Gunpowder was manufactured at Oare for several centuries on a site that has...

1.8 miles away


The Earls of Darnley were usually buried in Westminster Abbey, but by the late 18th century, their...

2.84 miles away

Capstone Farm Country Park is one of Medway's finest green spaces, offering wonderful opportunities...

3.12 miles away

Chatham Ski Centre has the longest artificial slope in the South East and is the premier...

3.48 miles away
Previous
Next