Queens Park Arts Centre & Limelight Theatre
Queens Park
Aylesbury
Buckinghamshire
HP21 7RT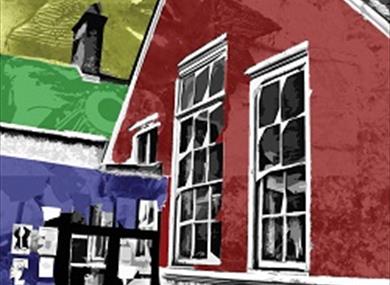 Offering 70 weekly arts and crafts workshops including painting, pottery, needlecraft, circus skills, drama, yoga and sign language, to name but a few, Queens Park Arts Centre has something for everyone. Within the centre is the Limelight Theatre providing affordable access to quality professional live theatre, comedy and music. The centre houses exhibitions and demonstrations. With affordable prices and a friendly, lively atmosphere, the Centre also houses a licensed bar and coffee shop. Only 5 minutes walk from Aylesbury town centre. Phone for a brochure.
Little known facts:
1. Well known war poet and professional boxer, Vernon Scannell and John Otway, musician attended Queens Park when it was a school.
2. During the First World War the building was used as a hospital for the British sick and wounded.
3. Eddie Izzard, Joe Brand and Lee Evans have all performed at our Limelight Theatre.
Follow us on Facebook and Twitter.
Opening Times
2013

(01/01/2013 - 31/12/2013)

Day
Times
Monday

10:00

21:30

Tuesday

10:00

21:30

Wednesday

10:00

21:30

Thursday

10:00

21:30

Friday

19:00

23:00

Saturday

10:00

23:00

Bank Holiday

09:00

17:00
* Open: Mon to Thurs, 10am to 9.30pm, Fri 7pm until show finishes, Sat 10am to 1pm and 7pm until show finishes.

What's Nearby
Come and experience a day out to remember at Aqua Vale, where visitors are certain to have a fun...

0.3 miles away

The Aylesbury Waterside Theatre can be found in the heart of Aylesbury. Boasting a dynamic and...

0.41 miles away

Lively hands-on, innovative museum complex consisting of county heritage displays, regional art...

0.54 miles away

Stoke Mandeville Stadium boasts the highest grade of facilities for our leading sportsmen and women...

0.89 miles away
Come rain, shine, winter or summer, Cycle Tours Oxford provides genteel and picturesque,...

1.18 miles away

Go Ape is a tree-top adventure based in the heart of Wendover Woodland Park, near Aylesbury. Take...

1.65 miles away

This National Trust property houses the Rothschild Collection of art treasures and wine cellars. It...

6.03 miles away

Set in the grounds of Tiggywinkles Wildlife Hospital, is a chance to meet different wildlife and...

6.04 miles away

Cruise into the Chiltern Hills along a beautiful stretch of the Grand Union Canal. We offer 90...

6.47 miles away

An unspoilt Medieval atmosphere

St Mary's is set on a hillside, below the Chiltern escarpment...

7.26 miles away

A 17th century timber smock mill with original wooden machinery. Built in 1650 and restored during...

7.93 miles away

The Roald Dahl Museum and Story Centre, in Great Missenden is where Roald Dahl (1916-1990) lived...

8.63 miles away

Pay a visit to the oldest horse charity in the world, established in 1886 to help the working...

8.9 miles away

The 16th century wallpaintings installed in Thame Museum hold many fascinating clues to the past....

8.9 miles away

9.15 miles away

There is plenty to do for all the family; see the beautiful interiors of the 400 year old house,...

9.85 miles away
Previous
Next