Basingstoke Canal Centre
Heritage / Visitor Centre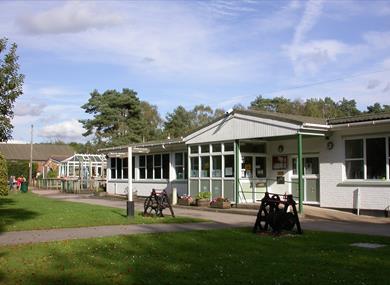 The Basingstoke Canal runs for 32 miles, from Greywell Village in Hampshire to Woodham in Surrey. Different parts of the canal hold their own surprises such as the flights of locks in Surrey, the lakes and flashes near Mytchett or the rolling fields and picturesque cottages near Odiham.

The Canal Visitor Centre at Mytchett is the perfect place to start exploring the canal or simply relax and watch the boats pass by.

Our facilities overlook the picturesque canal and include an information point and gift shop, tearoom, picnic area, children's 'trailblazer' play area, function room and a campsite.

There is plenty of free parking and the towpath is easily accessible from the Canal Centre, so why not start your journey from here.



What's Nearby
A look behind the scenes at 150 years of life in home of British Army. Victorian barrack room,...

1.77 miles away

Welcome to the Alpine Snowsports Centre offering a number of different Snowsports and fun...

2.39 miles away

Aldershot's West End Centre is a friendly, intimate venue with something for everyone.

We have...

3.42 miles away

The Camberley Theatre is a 408 seated modern venue offering a programme of high quality music,...

3.59 miles away

Brickfields Country Park, possibly the smallest country park in the UK.


3.88 miles away

A working independent commercial brewery in a building dating from 1768, 24 real ales are brewed...

4.07 miles away

Come and experience the best Clay Pigeon Shooting in the Country, located near Woking in Surrey.

4.38 miles away

There are craftspeople working on letter carving, card making, knitting, bead work and painting....

4.45 miles away

The Great Barn at Wanborough is one of the largest and most important medieval barns in south east...

4.52 miles away

The Country Park is predominately heathland habitat, but there are also ponds, woodland, shrubs and...

4.78 miles away

476 acres of heathland, woodland, grassland and ponds providing walking, cycling and fishing in...

5.4 miles away

Watts Gallery re-opened on June 18 after an £11million restoration project has returned it to its...

6.08 miles away
Previous
Next