Hythe
St John Street
Hythe
Southampton
Hampshire
SO45 6BZ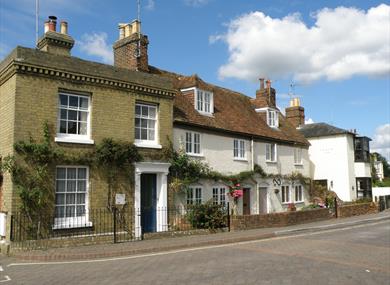 The village of Hythe nestles between the edge of the New Forest and Southampton Water, with its surrounding area known as 'The Waterside'.

An ideal place to visit, Hythe with its waterfront, boasts fantastic views across Southampton Water, and especially of the majestic cruise liners which come into the Port most days.

The village centre with pretty Georgian High Street offers a good range of interesting shops and services, with ample parking and pleasant traffic-free precincts.

There are plenty of places to eat and drink to suit all budgets, or enjoy traditional fish and chips on the sea front Promenade, with its raised boardwalk.

Take a ride on the little electric train along Hythe's historic Pier, which is over 130 years old, and catch the passenger ferry, which sails back and forth every half hour between Hythe and the city of Southampton.

Visit on a Tuesday to see Hythe's market.

Hythe was the home of Sir Christopher Cockerell, the inventor of the Hovercraft. A memorial to his achievement can be found in shady waterfront gardens.

Leisurely stroll around Hythe's Marina with its distinctive 'fishing village' style development and sit and watch the ships, yachts and boats out on the water.
Accommodation in Hythe
The Hyth Imperial Hotel boasts range of leisure activies such as Spa and Golf and has stood in the heart of Hythe. Enjoy the atmosphere of this quaint coastal town while soaking up the panoramic sea views from the hotel which is just a stone's throw from the beach. Victorian property Seabrook House has many of its original features preserved. Recently renovated each spacious room has first class ensuite facilities and all are tastefully decorated to a high standard in keeping with the age of elegance.
Take a look at our Southampton guide for more things to do around the area.
What's Nearby
SWAC offers courses in sailing, powerboating and theory shorebased courses. The purpose built...

2.1 miles away

Sensitive restoration has returned this house to its mid 14th century appearence steeped in...

2.17 miles away

Once the site of one of the largest Victorian military hospitals. Royal Victoria Country Park is...

2.25 miles away

Uncover over 800 years of history in the heart of Southampton's Old Town. Tudor House and Garden...

2.31 miles away

SeeSouthampton – The home of Southampton's most recently established tour guiding group for...

2.38 miles away

SeaCity Museum tells the story of the people of Southampton, their fascinating lives and the city's...

2.79 miles away

O2 Guildhall Southampton is the South's largest multipurpose entertainment venue. Hosting some of...

2.86 miles away

The art gallery attracts art-lovers, curious amateurs as well as those who simply enjoy the...

2.88 miles away

The Mayflower Theatre in Southampton is one of the largest theatres in South East England and...

2.92 miles away

First Class Sailing offers a full range of RYA practical sailing courses, including Competent Crew,...

3.03 miles away

Come to Beaulieu in the heart of the New Forest and discover the many delights that one of the UK's...

3.86 miles away

Nuffield is a multi-award winning professional producing theatre company based in Southampton. Open...

4 miles away
Previous
Next