Gravesend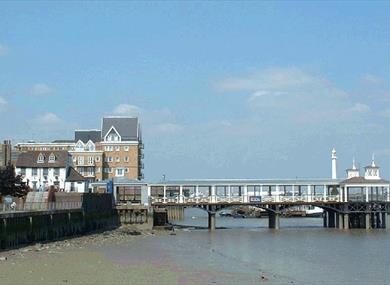 You will be amazed at all there is to do and see in Gravesend with its surprising combination of fascinating history and modern comfort.
At the heart of the town, and providing a focus for an attractive shopping centre, is St George's Church, last resting place of Pocahontas, the native American princess. Her statue in the church grounds is a place of modern pilgrimage.
Facing the church is TOWNCENTRIC, Gravesend's visitor centre where you will be welcomed with a smile and you will find wealth of information on what to do, where to stay and how to make most of your visit.
The River Thames also provides an ever changing backdrop to the town. Not only can you view the huge merchant ships gliding by, but you can recapture maritime history at Town Pier (the oldest cast iron pier in the world), the new tavern fort and the Chantry Heritage Centre, all linked by an interesting riverside walk for visitors of all ages and enthusiasms.
Let's not forget the town centre, which is a delight for shopping with modern and traditional stores, two shopping centres, Town Hall with its busy market and museum, and a newly restored High Street.
What's Nearby
Owletts is a small red-brick Charles II house with an interesting garden.

3.34 miles away

A large house standing in 150 acres of Repton's landscape garden and dating from 1587. It includes...

3.87 miles away

Bluewater, Europe's largest and most innovative retail and leisure destination.

4.04 miles away


The Earls of Darnley were usually buried in Westminster Abbey, but by the late 18th century, their...

4.5 miles away

Sixty-acre lake with footpaths, cliff top walks, bird hides and views over surrounding countryside....

5.1 miles away


A large garden, moated by the River Darent, around the former chapel of a 13thC Commandery of the...

6.04 miles away

A 13th century great chamber, on a vaulted undercroft, of a manor house of the Knights Templar.

6.07 miles away

The Orchard Theatre was officially opened on the 14th April 1983 by His Royal Highness The
Duke of...

6.56 miles away

One of the finest keeps in England. Also the tallest, partly built on the Roman city wall. Good...

6.66 miles away

Discover the history of Medway from pre-historic times to the present day at the Guildhall Museum...

6.68 miles away

Fun, original and just a little wacky, Diggerland Kent is sure to provide one of the most memorable...

6.68 miles away

St James' Church dates from the late 13th century. No evidence of an earlier building survives. ...

6.73 miles away
Previous
Next