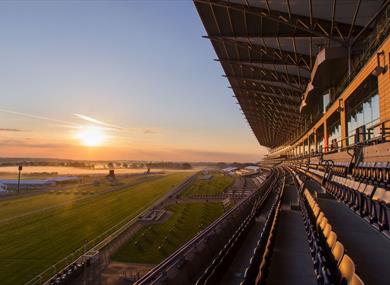 Though a pretty Berkshire town in its own right, it's fair to say that Ascot is dominated by its spectacular racecourse. Certainly one of the world's finest and most famous courses, Ascot attracts over half a million visitors each year.
Ascot Racecourse can trace its history back to 1711 when Queen Anne arranged the first meeting. Today's recently redeveloped racecourse is a sight to behold – with enormous terraced stands and immaculate grounds.
Mid June is prime racing time. While there are meets throughout the year at Ascot, nothing compares to Royal Ascot – an incredible display of world class horse racing, extravagant hats, and socialising on an epic scale. You'll also see members of the Royal Family process each day at 2pm during Royal Ascot – a tradition that dates back to 1825.
Away from the races you'll find an attractive town with plenty of shops and restaurants, as well as lively bars and music venues. Fitting perhaps, as Ascot is where Girls Aloud singer Sarah Harding was born.
Things to do in Ascot
Ascot is only 6 miles from historic town of Windsor and the world famous Windsor Castle.
The Savill Garden is just a 15 minute drive from Ascot and is one of the most decorated ornamental gardens in the UK.
The Look Out Discovery Centre near Bracknell is set in the heart of an ancient forest and has over 70 interactive science exhibits for the whole family to discover.
For a fantastic treetop climbing adventure visit the Go Ape adventure course, also located in the Bracknell Forest.
Fancy a round of golf? There are three golf courses located less than 5 miles from Ascot – Berkshire Golf Club, Sunningdale Golf Club and Mill Ride Golf Club.
For more inspiration of what to do in Ascot, check out our Berkshire events guide. A selection of towns near Ascot can be viewed on our map of Berkshire.