Paultons Theme Park Home of Peppa Pig World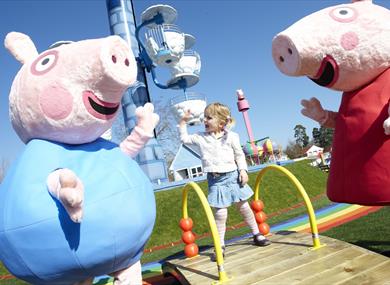 Paultons Park, home of Peppa Pig World, is the theme park for families which has more than 60 wonderful rides and attractions included in the admission price.
Look out for the dinosaur themed Lost Kingdom, 4D cinema, toddler-friendly Water Kingdom and daily penguin feeding.
Check out the 'What's Nearby' listings at the bottom of the page for more things to do around Romsey and the New Forest, events and places to stay.
Our Family Fun page gives more inspiration for what to do with kids if you're spending more than a day in the South East along with a choice of other theme parks in the region.
Paultons Park Reviews (from Google)
Average rating 4.4/5 from 7 reviews
Went mainly for Peppa Pig. Didn't think the park looked that big, but it was a decent size and immaculate. You're not going to find the big white knuckle rides that you would find at Alton Towers, but there are a great selection that will suit all fair park goers, those who may not be as daring as others should be happy to ride everything, there are quick rollercoaster that are great fun but miss the ridiculous huge drops that some may find too scary.
Ross, 2017 - 5 stars
Huge amount to do, including Peppa Pig World, so a good place to spend a day. Lots of rides of varying 'intensity' and other attractions to keep there kids busy. Downsides were queues (buy a queue jumping upgrade if you can), tight parking bays (we had to take two bays just to get the baby car seat out) and lack of healthy food options (feels a bit behind the times in that regard). Had a really enjoyable day though and would go again (despite high entry fee).
Charlie, 2017 - 4 stars
Promised my 3-year old to have her birthday spent here. It was definitely worth the almost 4-hour journey. It wasn't as busy as we had dreaded, although we didn't arrive until 1:30. Queues were on average 15-20 mins but we still had plenty of time to go on every ride & roam around the best ever Peppa Pig shop.
Selin, 2017 - 5 stars
Nice clean park could be great fun however***
If you're toddler is 1m tall you have to pay. We disputed this at they gate and said would she be allowed on all the rides they replied yes so we pitched her 2 day ticket which was £31.95. Once in the park she wasn't allowed on 5 rides because she was too small or was under age if you're child is under 4 she cannot ride on some rides due to insurance reasons. This really annoyed me and my partner as we was told she would be allowed on every ride as long as she was 1m tall
Kieren, 2017 - 3 stars
Finally a place for the whole family from babies to adults. There is something for everyone to do and enjoy. The park is huge I would recommend a two day visit as it works out to be cheaper and it comes with a hotel stay. Parking is not an issue. I will be going again this year
Bonny, 2017 - 5 stars
Awards
Tourism South East Award -

2011/12 Outstanding Achievement Award

2011
What's Nearby
This beautiful house, set in the rural town of Romsey is open for guided tours. The original manor...

3.08 miles away

An inspiring creative centre - an art and craft gallery, a delightful cafe and educational spaces...

3.52 miles away

Romsey Abbey is situated in the centre of Romsey – about 10 miles from Southampton and Winchester,...

3.6 miles away

Three historic buildings, a tearoom and period garden.

3.65 miles away
Experience a world of water fun and adventure. An all-year-round tropical water wonderland. The...

3.74 miles away

Set in Minstead this delightful, informal garden established in 1922 is renowned for its all year...

4.19 miles away

Make friends with the sika and fallow deer who follow you around or marvel at the watchful wolves...

5.21 miles away

Find out what makes the Forest so special at the New Forest Centre. The Museum is great for...

5.36 miles away

Tightloops is the total fly fishing experience company for those holidaying in Hampshire and...

5.62 miles away

Open all year. Over 42,000 plants set within a 180 acres garden paradise. Children's play features...

5.64 miles away

Explore this isolated island of characteristic chalk downland set in a sea of intensively farmed...

6.3 miles away

A romantic house and gallery set in beautiful riverside gardens. Carpets of spring bulbs, a...

6.4 miles away

The Mayflower Theatre in Southampton is one of the largest theatres in South East England and...

6.69 miles away

Holbury Lakes Trout Fishery covers 40 acres of Test Valley countryside, and has been described as...

6.71 miles away

The art gallery attracts art-lovers, curious amateurs as well as those who simply enjoy the...

6.84 miles away

SeaCity Museum tells the story of the people of Southampton, their fascinating lives and the city's...

6.85 miles away
Previous
Next