Paultons Theme Park Home of Peppa Pig World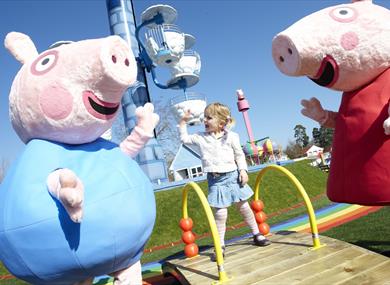 Paultons Park is the theme park for families which has more than 60 wonderful rides and attractions included in the admission price.
Critter Creek is a fully themed world of strange mixed-up creatures known as the 'Curious Critters'! Meet the Fly-ger or say hello to the Horned Swamp Donkey! You can take a ride on the Cat-o-pillar rollercoaster and discover enormous colourful plants the likes of which have never been seen before. Critter Creek is also home to Professor Blast's Discovery Express Train, a delight little journey for little ones and Beastie Burrow, a real life bug emporium complete with fascinating and unusual insects, fish and lizards!.
Join the legendary Sherlock Holmes in this thrilling 4D family action film at the Show Street Cinema. SHERLOCK HOLMES 4D takes audiences of all ages on a mystery adventure as Holmes and his longsuffering companion Doctor Watson race after a bank robber through the vaults of the Bank of England, into the Tower of London and up the clock tower of Big Ben!.
Paultons is of course home to the world's first and UK exclusive Peppa Pig World! This amazing land let's youngsters discover Peppa's World in nearly 3 acres of fully themed fun! There are 7 fabulous rides including Miss Rabbit's Helicopter Flight, Peppa's Big Balloon Ride, Grandpa's Little Train, George's Dinosaur Adventure and you can even ride in a 'cloud' around Windy Castle! Peppa Pig World features a huge indoor play area, Georges Spaceship Playzone and superb animated themed attractions including a chance to visit Peppa and her family in their house! Peppa Pig World is also home to Daddy Pig's Big Tummy café and Peppa's Toy Shop, the largest (and only!) dedicated Peppa Pig shop in the World!
Top for thrills is the Park's breathtaking ride, EDGE. Riders swoop and spin through the air reaching a height of 15 metres on a giant disc that travels along a 90-metre track featuring a 'camelback' hill to create an amazing floating sensation. EDGE was the first ride of its type in the UK and perfectly complements the Park's other thrilling rides including The Cobra and, last year's exhilarating new attraction Magma. The largest of Paultons three rollercoasters, The Cobra features an exciting combination of twists, drops and turns that have made it a great family favourite whilst Magma launches riders 25 metres up in to the sky only to drop them back down in to the heart of a smoking volcano!
The action continues apace at Paultons with guests being able to swoop on The Stinger rollercoaster, make a splash on the mighty Raging River Ride log flume, drop down the Jumping Bean and fly on the thrilling Sky Swinger.
Smaller children will love Water Kingdom! It's a whole world of water jets, giant tipping buckets, sprays, fountains, and super soakers for the little ones to enjoy and explore. This huge 8,500ft kids' splash park paradise features more than 20 different ways of getting wet and has a seated patio area nearby so parents can relax whilst watching the fun.
Younger children also adore the beautiful garden-themed Trekking Tractors ride, Seal Falls, the Digger Ride, Jumping Jack, and Tiny Tots Town playground.
Daily penguin feeding sessions also take place throughout the year, featuring an entertaining keeper talk which gives visitors a chance to learn more about these unusual and often humorous birds.
There is an amazing variety of things to see and do at Paultons including; big rides, small rides, play areas, entertainments and an astonishing collection of exotic birds and animals, all set within 140 acres of beautiful parkland.
Paultons really is way too much fun for one day!
Paultons Park Reviews (from Google)
Average rating 4.4/5 from 7 reviews
Went mainly for Peppa Pig. Didn't think the park looked that big, but it was a decent size and immaculate. You're not going to find the big white knuckle rides that you would find at Alton Towers, but there are a great selection that will suit all fair park goers, those who may not be as daring as others should be happy to ride everything, there are quick rollercoaster that are great fun but miss the ridiculous huge drops that some may find too scary.
Ross, 2017 - 5 stars
Huge amount to do, including Peppa Pig World, so a good place to spend a day. Lots of rides of varying 'intensity' and other attractions to keep there kids busy. Downsides were queues (buy a queue jumping upgrade if you can), tight parking bays (we had to take two bays just to get the baby car seat out) and lack of healthy food options (feels a bit behind the times in that regard). Had a really enjoyable day though and would go again (despite high entry fee).
Charlie, 2017 - 4 stars
Promised my 3-year old to have her birthday spent here. It was definitely worth the almost 4-hour journey. It wasn't as busy as we had dreaded, although we didn't arrive until 1:30. Queues were on average 15-20 mins but we still had plenty of time to go on every ride & roam around the best ever Peppa Pig shop.
Selin, 2017 - 5 stars
Nice clean park could be great fun however***
If you're toddler is 1m tall you have to pay. We disputed this at they gate and said would she be allowed on all the rides they replied yes so we pitched her 2 day ticket which was £31.95. Once in the park she wasn't allowed on 5 rides because she was too small or was under age if you're child is under 4 she cannot ride on some rides due to insurance reasons. This really annoyed me and my partner as we was told she would be allowed on every ride as long as she was 1m tall
Kieren, 2017 - 3 stars
Finally a place for the whole family from babies to adults. There is something for everyone to do and enjoy. The park is huge I would recommend a two day visit as it works out to be cheaper and it comes with a hotel stay. Parking is not an issue. I will be going again this year
Bonny, 2017 - 5 stars
Awards
Tourism South East Award -

2011/12 Outstanding Achievement Award

2011
What's Nearby
This beautiful house, set in the rural town of Romsey is open for guided tours. The original manor...

3.08 miles away

An inspiring creative centre - an art and craft gallery, a delightful cafe and educational spaces...

3.52 miles away

This fine Norman and early-English abbey has Saxon foundations and roods. It houses the tomb of...

3.6 miles away

Three historic buildings, a tearoom and period garden.

3.65 miles away
Experience a world of water fun and adventure. An all-year-round tropical water wonderland. The...

3.74 miles away

Set in Minstead this delightful, informal garden established in 1922 is renowned for its all year...

4.19 miles away

Make friends with the sika and fallow deer who follow you around or marvel at the watchful wolves...

5.21 miles away

Find out what makes the Forest so special at the New Forest Centre. The Museum is great for...

5.36 miles away

Tightloops is the total fly fishing experience company for those holidaying in Hampshire and...

5.62 miles away

Open all year. Over 42,000 plants set within a 180 acres garden paradise. Children's play features...

5.64 miles away

Explore this isolated island of characteristic chalk downland set in a sea of intensively farmed...

6.3 miles away

A romantic house and gallery set in beautiful riverside gardens. Carpets of spring bulbs, a...

6.4 miles away

The Mayflower Theatre in Southampton is one of the largest theatres in South East England and...

6.69 miles away

Holbury Lakes Trout Fishery covers 40 acres of Test Valley countryside, and has been described as...

6.71 miles away

The art gallery attracts art-lovers, curious amateurs as well as those who simply enjoy the...

6.84 miles away

SeaCity Museum tells the story of the people of Southampton, their fascinating lives and the city's...

6.85 miles away
Previous
Next