Mote Park
Mote Avenue
Maidstone
Kent
ME15 7RN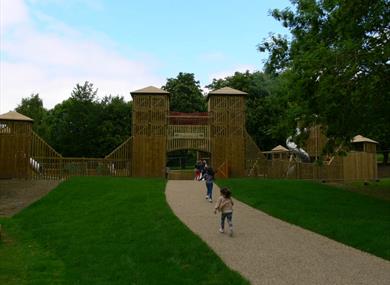 Mote Park has been a popular place to visit for both visitors and locals being a huge green open space in the heart of town. Its vast number of mature trees create a landscape of tranquil beauty, cool shade in the summer and glorious colour in the autumn. The winter and spring are very popular with bird watchers as it hosts some over wintering birds and a host of chicks arrive in the spring.
Maidstone Leisure Centre backs on to the park and looks after the football and rugby pitches, in the wide open areas but whilst the park is used for sports the vast majority of people come along for the glorious walk around the thirty acre lake or simply to have a picnic and enjoy the play facilities with their children.
Getting out on the water and messing about in boats is a much enjoyed British past-time and Mote Park Water Sports Centre is the perfect opportunity to explore the water and to enjoy this place from a different perspective. Here you can take out a rowing boat, try sailing or windsurfing or get the family into a pedelo swan and explore the islands, reeds and trees. Whilst there is a small cost the prices are family friendly.
For those looking for a bit of excitement and some new challenges is the Red Bull sponsored BMX track. This is great fun and free and with practice those taking part get faster and faster at getting round and the jumps and spins bring a whole new element to the park. This is a great discovery for those bringing their bikes on holiday.
The 18 hole Pitch & Putt Golf Course is open during the weekends of the summer. Here you can hire the clubs and get out onto the greens. It is fun for all the family with many laughs for the beginners and a few challenges for the more experienced.
A variety of events happen throughout the park during the year, these can be large music and ticketed events or ones run by the volunteers, wildlife data capture, outdoor theatre or simple family fun events. Check out our What's On pages to find out more about dates and times.
A little café is open all year and offers everything from jacket potatoes and sandwich lunches to tea and ice creams. There is both indoor and outdoor seating.
Mote Park has a long history and was originally the main water source for a Roman Villa, the in later years Mote Park House became a country estate and the owners planted and developed park around their home. The park was then bequeathed to the people of Maidstone and it is looked after by Maidstone Borough Council and an amazing team of volunteers.
Mote Park Reviews (from Trip Advisor)
Average rating 4.5/5 from 700 plus reviews
We love walking round the lake and use this venue lots. There are lots of places to walk, there's a dementia walk and there's plenty of places for ball games, fishing, kite flying and there's even a kids mini railway for the kids that offers rides on Sundays. The latest investment is making a hive difference to this fantastic facility.
Steve, 2017 - 5 stars
It might have been the English summers day but we strolled for a couple of hours around Mote Park and thoroughly enjoyed the experience. There are walkways that can be co-shared with cyclists, canoe and paddle boat hire and a café for those who need it. The best part is simply strolling along and taking in the scenery. An ideal venue for picnics. Lots of people strolling with their dogs - a haven away from it all.
Noddy, 2017 - 5 stars
Excellent place to spend a day out with family. With many activities to look forward too from canoeing to long walks to a trip on the mini duck boats to a mini train ride for the little one to bird DuckDuckGo all in one you will find it at Mote Park. Don't forget to bring your on picnic goodies to avoid disappointment for a good day in the park.
Nancy, 2017 - 5 stars
Nice to go for a walk here and feed the ducks - however don't feed them bread, it's bad for them and the water, feed them lettuce, seeds, peas etc :)
Ruby, 2017 - 4 stars
A nice park with a good size area for the kids to play, and lots was happening today with food tents etc. There is a big lake you can feed the ducks around and some remote controlled boats you can watch. There is pedeols and alike you can take a trip on round the lake. The walk around the outside of the park is nice and not exceptionally long but a brisk walk. Local restaurant in the park and said in the title was happy with the parking. Was exceptionally busy today due to sunshine but just £1 for up to 6 hours parking which I don't think you can moan about at all.
Dan, 2017 - 4 stars
More
Opening Times
Open
(1 Jan 2017 - 31 Dec 2017)
What's Nearby
Maidstone Carriage Musuem is home to a unique collection of horse-drawn vehicles & transport...

0.71 miles away

A 100-seater passenger boat offering 1 and 3 hour cruises along the River Medway. 1 hour cruises...

0.78 miles away

The Hazlitt Theatre & The Exchange offer a varied programme throughout the year.


0.8 miles away

Maidstone Museum and Bentlif Art Gallery is an exceptional regional museum housed in the gorgeous...

0.84 miles away
15th century half timbered Yeoman's house featuring a great hall and crownpost, surrounded by...

2.07 miles away

Kent's premier heritage farm park will soon be launched into a new era with several developments on...

2.49 miles away

A beautifully restored 17thC barn, now a visitor centre, with displays on Kent's wildlife habitats...

2.84 miles away

The White Horse Country Park is set within the Kent Downs Area of Outstanding Natural Beauty. The...

3.09 miles away

The Kent Event Centre has been on its current site at Detling since 1964. Originally purchased to...

3.16 miles away

Three meadows nestling beside the River Medway. This is an edial loction to watch boats cruising...

4.06 miles away

Take in the breathtaking views of the beautiful countryside and North Downs and experience a course...

4.24 miles away

Just 4 miles south of Maidstone, Leeds Castle is one of the best preserved historic castles in...

4.26 miles away

Experience the thrills of high speed with sharp bends, head for Buckmore Park International kart...

5.12 miles away

Chatham Ski Centre has the longest artificial slope in the South East and is the premier...

6.19 miles away

Capstone Farm Country Park is one of Medway's finest green spaces, offering wonderful opportunities...

6.39 miles away

UK Electric Bike Tours run scheduled and bespoke electric bike tours in and around Kent. We also...

6.75 miles away
Previous
Next