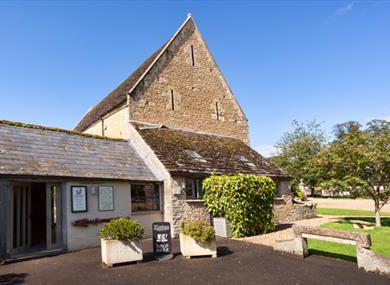 The splendid 18th century buildings, in the idyllic setting of the tranquil village of Filkins, house the design studio, mill shop and gallery, textile museum and coffee shop.

The beautiful cloth is traditionally woven, with textures and colours inspired by the limestone landscapes of the Cotswolds.The small wool museum has fascinating textile artifacts collected by the owners over the years and there are traditional looms in working order. The mill shop sells authentic contemporary clothing and luxurious rugs, cushions and throws.

There is also traditionally made furniture upholstered in Cotswold Woollen Weavers cloth, as well as Filkins Stone's gallery of limestone fire surrounds and flooring all hand worked on the premises. There is a coffee shop and picnic area, as well as easy, onsite parking.
What's Nearby
Trout and fly fishing. First organic Trout farm in the UK.

2.28 miles away

One of Oxfordshire's top attractions and one of the most beautiful zoological collections in the...

2.46 miles away

The summer home of William Morris, Kelmscott Manor is a Grade I listed farmhouse, built around 1600...

3.56 miles away

An early 18thC house of Cotswold stone, set on the banks of the Thames and with a small garden.

4.02 miles away
A late-18thC country house with landscaped formal park and gardens. House contains the Faringdon...

4.27 miles away

West Ox Arts is situated in a lovely, spacious gallery on the first floor of the Grade II listed...

4.82 miles away

Bampton Garden Plants started out as a small plant sale that occurred a couple of times a year...

5.16 miles away

The Spa at Witney Lakes Resort provides you with the chance to taste the exotics as well as adding...

6.19 miles away


The last folly to be built in England in 1935 stands at 104ft and offers extensive views of the...

6.5 miles away

Make a day trip to see these traditional agricultural estates with villages, farms and woodland.

6.72 miles away

Thirteenth-century monastic stone tithe barn with interesting timber construction.

6.93 miles away


Come and join us on a great day out with photo opportunities, feeding displays, crocodile talks...

7.61 miles away

Guided tours of the brewery every Saturday and Sunday afternoon. The tour lasts approximately 45...

7.8 miles away

The Cotswold stone farm buildings grouped around the farmyard and the manor house beyond provide a...

8.22 miles away

Wychwood Wild Garden is a beautiful woodland and garden, close to the centre of Shipton under...

8.44 miles away

Farmer Gow's ~ the 'favourite place on earth' for lots of its young visitors.

8.61 miles away
Previous
Next