Cotswold Wildlife Park & Gardens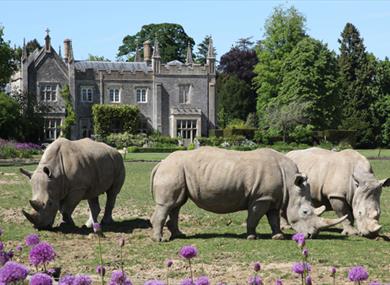 One of Oxfordshire's top attractions and one of the most beautiful zoological collections in the country is Cotswold Wildlife Park & Gardens. Get eye-to-eye with Giraffe, Walk with lemurs or watch rhinos graze on the Manor House lawns.
Many of the animals are rare and endangered, visitors can walk through the Madagascar enclosure with free-roaming lemurs and see meerkats, penguins and tropical birds in the exotically landscaped Walled Gardens. This is particularly colourful mid to late summer.
Elsewhere as visitors meander around the Park, amongst the animals to be seen are rhinos, lions, giraffes and, for the first time at the Park, anteaters. Indoor exhibits include the Reptile House, Invertebrate House, Tropical House and Farmyard Barn.
Visitors can enjoy a picnic, ride on the narrow-gauge railway and adventure playground.
Facilities are excellent for both able-bodied and disabled visitors with wheelchair access to all exhibits and to the cafeteria which serves hot and cold meals throughout the year.
Opening times
Open every day (except Christmas Day)
Open from 10am
Last admissions at 4.30pm (British Summer Time) 3.30pm (Winter/GMT)
Find out more about Oxfordshire or see other attractions and places to visit in the county.
Find other zoos and wildlife parks in South East England.
Cotswold Wildlife Park Reviews (from Trip Advisor)
Average rating 4.5/5 from 2,500 plus reviews
We came here with our 1 year old daughter and thought it was fantastic. The animals are clearly well cared for and so are the gardens, they are beautiful. Opportunities to get really close to the animals with things like the giraffe platform and there is an open field for little ones to pet the goats. Our daughter was amazed! Plenty of space and benches for picnics too. For just £1 there is a little train which goes all round the park. A brilliant day out!
Archie, 2017 - 5 stars
This wildlife park is great to visit and I personally think is a reasonable price. The staff where friendly and on many occasions interacted with the customers. The restaurant was OK but for the price would expect food to be spot on, unfortunately both mine and my partners was burnt. Overall I think this is a good place to visit and the animals seem happy, some enclosures could be expanded with the available space.
Abigail, 2017 - 5 stars
I went to this wildlife park as it was recommended to me. I hadn't actually been there in about 30 years. I went with my daughter and boyfriend. My daughter is in a wheelchair and everywhere was accessible to her. All the walkways were flat and the surfaces were easy to push her on. She was able to interact up close with several animals. There were no high fences obstructing her view of any of the animals. The price was reasonable. This wildlife park has recently added a changing room for disabled people that includes a hoist and changing table and a shower. All of the above made this visit to the park an amazing day out. I would highly recommend it to everyone and anyone.
Karen, 2017 - 5 stars
My friend and I came here for a day out and had a great time! They have a wide range of animals including rarer finds such as a Wolverine and a Pallas cat! The animals are spread out around the park connected by winding paths through the beautiful gardens and it makes for a nice walk through. The otters and other smaller animals are almost close enough to touch! We really liked the giant tortoise and there was a pleasant restaurant serving the usual sausages, jacket potatoes and chicken goujons etc. It is dog friendly which was great, my only complaint was that they had no elephants! But otherwise it was a great way to spend a morning!
Beth, 2017 - 4 stars
I have been to a lot of zoos over the years and while this one maybe doesn't offer the same wealth of animals as others it is a truly beautiful place to visit. The gardens are stunning and there are so many picnic areas to enjoy right by the animals. The enclosures are large and the way they have been built enables you to get incredible views of the animals as there are not many cages or bars. A photographer's dream! There are a few big animals such as lions, giraffes and rhinos but a particular speciality for them is the birds. Would highly recommend a visit and it is such a stunning zoo to walk around. Great day out!
Chris, 2017 - 5 stars
Me and my wife came here for a day out,gardens were lovely and clean,animals not the best,£15 each which we thought were very over priced,would rather just go for walk around a wood or forest,probably wouldn't go back☹️which is a shame as was a nice drive there
Kevin, 2017 - 2 stars
More