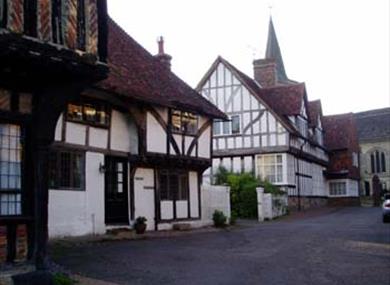 Lying in the extreme south eastern corner of Surrey is the ancient parish of Lingfield known to be in existence at the time of the Domesday book, but for some reason not mentioned in it.
A will made around 960 during the reign of King Edgar refers to certain lands in Lingfield and the advowson (patronage) of the church as part of a gift to the Abbey of Hyde, near Winchester.
It is from the 14th and 15th centuries that more detailed records of the parish really appeared as the great Wealden forest was being developed for agriculture and the iron industry, the latter just over the border in Sussex.
It's now famous for horseracing at Lingfield Park with regular races through the year or for animal life of a different kind pay a visit to the British Wildlife Centre.
Information
What's Nearby
Vanguard Way is the ideal route for the walking enthusiast. At 66 miles (107 km) of beautiful...

3.64 miles away

Hidden woodlands, lush green meadows, tranquil ponds and an ancient common

3.92 miles away

Designed by Philip Webb in the 1890s for wealthy solicitor, James Beale, and his family, Standen is...

4.94 miles away

Ancient common on the Greensand Ridge where time comes home to sleep
Limpsfield Common was used by...

5.66 miles away

Romantic 13th century moated castle, once Anne Boleyn's childhood home. Magnificently furnished...

5.7 miles away

The Festival Theatre is an open air venue in a magical location offering a wide selection of shows...

5.79 miles away

Farm Shop, Butchery, Gift Barn. Tea Room, Garden & Play Area. PYO, Seasonal Events, Espresso Bar,...

6.01 miles away

Far from the sea, but still a great view


Mariners Hill is much enjoyed by local people and dog...

6.12 miles away

Outdoor activity centre offering:
canoeing, climbing, archery, abseiling, crate challenge,...

6.23 miles away

Family home of Sir Winston Churchill with house and gardens very much as in his day. Memorabilia,...

6.48 miles away

Offering beginner lessons for individuals, and groups of all sizes. Ride the Hill can offer...

6.53 miles away

Founded in December 1888, it is one of the longest established golf clubs in Sussex. A little gem...

6.56 miles away
Previous
Next