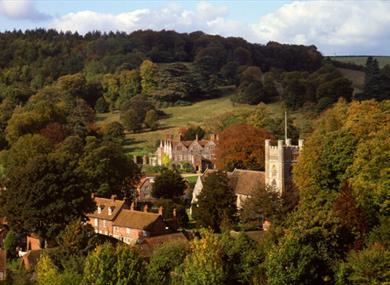 Hambleden is one of its prettiest villages of brick and flint cottages, in one of the most attractive valleys in the Chiltern Hills.
St Mary's church dates from the 14th century and includes a conspicuous memorial to Cope D'Oyley (who died in 1633) and his family. The tower contains eight bells and the ceiling is quite intricately decorated in parts.The post office in the village serves also the local shop and cafe.
The Jacobean style manor house was built in 1603 of flint and stone. Charles I stayed there overnight in 1646 while fleeing from Oxford. Another notable building is the Old Rectory built in 1794.
Hambleden was the home village of William Henry Smith, founder (in 1821) of the book chain W H Smith, he died in 1891 and is buried in the new cemetery. Lord Cardigan, famous for his role in leading the ill-fated Charge of the Light Brigade, was born in the Manor House. The sea chest that he took to the Crimea can be seen in the church.
The attractive village has often been used as a film location, such as Chitty Chitty Bang Bang, Dance with a Stranger and the opening scenes of the recent remake of The Avengers starring Ralph Fiennes and also some scenes of 101 Dalmatians. Hambleden was also used in the HBO miniseries Band of Brothers to depict Easy Company's training in England. Also, the Tim Burton film Sleepy Hollow, starring Johnny Depp and Christina Ricci, included a month-long location shoot at Lime Tree Valley, in Hambleden.
A mile to the south of Hambleden at Mill End are the historic watermill, Hambleden Mill, now converted into flats, and Hambleden Lock on the River Thames, both of which feature in the novel Three Men In A Boat.
For things to do in the area, take a look at our Buckinghamshire guide and accommodation in the surrounding area.
What's Nearby
Barn Galleries is a family business founded in 1991 with our first exhibition, ARTSPACE.

2.19 miles away

Hobbs of Henley – the best in boating since 1870.

Hobbs provides a variety of ways to enjoy...

2.88 miles away

Hobbs and Sons Ltd (now named Hobbs of Henley Ltd) was established in 1870 and has continued to...

2.88 miles away

A unique, award-winning museum with galleries dedicated to rowing, the River Thames and the town of...

2.94 miles away
We work with many companies to deliver an experience above and beyond the expectations of our...

3.23 miles away

Close to Henley on Thames, Marlow and a stone's throw from London, is the ancient home of the...

3.41 miles away

Welcome to Henley Golf Club in Oxfordshire, a traditional member's club, situated just a few miles...

3.81 miles away

Imagine painting and sketching while cruising the beautiful River Thames on a vintage Dutch Barge....

3.83 miles away

Bisham Abbey National Sports Centre, owned and managed by Sport England, is one of the prinicipal...

3.97 miles away

In this secluded valley high in the Chilterns you will find a mosaic of habitats from birch,...

4.27 miles away

A picturesque house with tranquil walled gardens.

4.31 miles away

Caves dug into chalk hillside extending to approximately 0.75 mile. Enter through a flint forecourt...

4.86 miles away


An historic landscape full of natural beauty

For many years the commons have been at the heart...

5.36 miles away


The elegant Palladian home of the Dashwood family and historic village

West Wycombe Park is one...

5.49 miles away

Kraft Village
High Wycombe Chair Making Museum exhibits tools used in making 4,700
chairs a day in...

5.96 miles away

Gigs, comedy, film, theatre, gallery, classes, cafe bar. Since September 2000, Norden Farm has...

6.53 miles away
Previous
Next