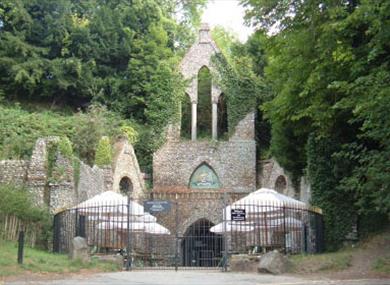 Unique caves created in the 1750s by Sir Francis Dashwood where, according to tradition, members of the notorious Hellfire Club met. They consist of a long winding passage which leads past various small chambers and the Great Hall. There is a commentary and the history is depicted by life-size figures in period dress.
Find out more about Buckinghamshire or see other attractions and places to visit in the county.
See here for other caves in the South East.
What's Nearby

We are a standard gauge railway operating both steam and diesel hauled train services from our...

4.27 miles away

Pay a visit to the oldest horse charity in the world, established in 1886 to help the working...

4.47 miles away

A 17th century timber smock mill with original wooden machinery. Built in 1650 and restored during...

4.67 miles away

Discover an Oxfordshire dreamscape as you walk to the top of Watlington Hill, where you will find...

4.72 miles away

Victorian home of Prime Minister and statesman Benjamin Disraeli from 1848 until his death in 1881.

4.9 miles away

In this secluded valley high in the Chilterns you will find a mosaic of habitats from birch,...

5.57 miles away

Bisham Abbey National Sports Centre, owned and managed by Sport England, is one of the prinicipal...

7.02 miles away

Imagine painting and sketching while cruising the beautiful River Thames on a vintage Dutch Barge....

7.04 miles away

Barn Galleries is a family business founded in 1991 with our first exhibition, ARTSPACE.

7.05 miles away

Hobbs and Sons Ltd (now named Hobbs of Henley Ltd) was established in 1870 and has continued to...

7.42 miles away

Hobbs of Henley – the best in boating since 1870.

Hobbs provides a variety of ways to enjoy...

7.42 miles away

A unique, award-winning museum with galleries dedicated to rowing, the River Thames and the town of...

7.59 miles away
Previous
Next