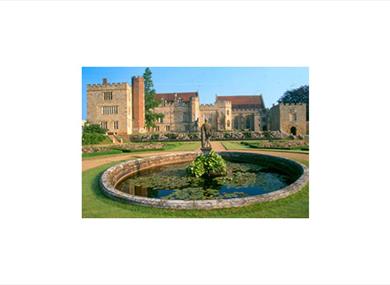 Discover the beauty and tranquility of this enchanting historic family home and gardens.
With a unique medieval Baron's Hall, staterooms and intimate Tudor walled gardens that have colour and interest throughout the seasons.

Family fun with an Adventure Playground. Toy Musuem, Woodland Trail, events programme, Garden Tea Room and Gift Shop.
Awards
Visit England Awards -

Code of Practice

2012
Gradings
Quality Assured Visitor Attraction VB Attraction

What's Nearby

One of the most beautiful and oldest villages in Kent

One of the prettiest villages in Kent,...

1.7 miles away

Chiddingstone Castle, whose history can be traced back to the early 16th Century, is a unique...

1.94 miles away

Short Description is not available

2.84 miles away

The Festival Theatre is an open air venue in a magical location offering a wide selection of shows...

3.08 miles away
Romantic 13th century moated castle, once Anne Boleyn's childhood home. Magnificently furnished...

3.16 miles away

There's magic and mystery, history and intrigue, romance and peace at these beautiful gardens.

3.98 miles away

Open all year, Mon-Sat 9am-4pm, Sun/BH 10.30am-4pm. Closed Christmas & New Year. Last tour one...

4.21 miles away

Experience the magic of ice skating outdoors in Tunbridge Wells this Christmas. Set within the...

4.54 miles away

3½ miles through the picturesque Kentish Weald countryside.

4.67 miles away

The Assembly Hall Theatre is a 1,000 seat receiving theatre offering an eclectic programme with...

4.69 miles away

Beautiful hillside garden, privately owned by the Rogers family since 1840, extensive views across...

5.1 miles away


A great place for a picnic. Enjoy impressive views of The Weald

Ide Hill is 33.5 acres of...

5.24 miles away

Harrisons Rocks in Groombridge provide a combination of some of the best beginner friendly tuition...

5.77 miles away


Discover the place that inspired Octavia Hill to found the National Trust

Toy's Hill is more...

5.84 miles away


Protected for over 100 years, a beautiful slice of Kent countryside

Dr and Mrs Jamieson Hurry...

5.88 miles away

Pooh Corner is a gift shop specialising in Winnie-the-Pooh and his friends. The timber frame...

6.08 miles away
Previous
Next