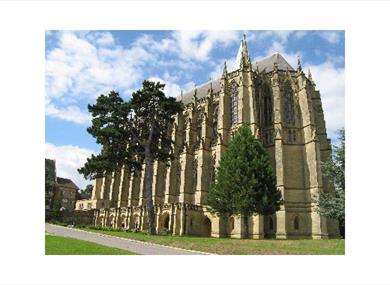 Lancing College Chapel dominates the landscape to the north of the A27 and across the Adur Valley.

It was founded in 1868 and dedicated in 1911. It is a stunning example of Gothic revival and has a nave reaching over 90ft to the apex of the vault. The Rose Window has over 30,000 pieces of stained glass, it has a 32 ft diameter and is one of the largest in England. It was dedicated by Archbishop Coggan in the presence of HRH The Prince of Wales in 1978. In May 2007 Archbishop Desmond Tutu dedicated a stained glass window in memory of Bishop Trevor Huddleston, a pupil at Lancing in the late 1920s. Internal features include the stall canopies, the brass lectern, bronze candlesticks and fine tapestries. There are two organs - the 4-manual Walker organ and the 2-manual Frobenius organ.

Lancing College was founded in 1848 by Nathaniel Woodard. It was the first of several schools he established as part of the Woodard Corporation and is today an independent co-educational secondary school.

The chapel is open to visitors from 10:00-16:00 Monday to Saturday and from 12:00-16:00 on Sundays. Groups of visitors who would like a guided tour should contact the Verger, Mr Andrew Howat, in advance, on 01273 465949, or email verger@lancing.org.uk.
What's Nearby
Twelfth-century secular building with unusual architectural features. Housing the museum of the...

1.59 miles away

Shoreham Beach is a designated Local Nature Reserve (LNR) supporting large areas of vegetated...

1.81 miles away

Brooklands Pleasure Park is great for all the family. Note: the boating lake is currently closed...

2.27 miles away

Fun for all ages driving Go-Karts or mini-motos with a choice of 2 circuits, either the oval (this...

2.33 miles away

An enchanting historic 15th century timber-framed house, with magnificent gardens, in the...

2.54 miles away

Centre offering fitness classes, badminton, basketball and volleyball courts and floodlit tennis,...

2.95 miles away

The Barn Theatre is used for various activities - Theatre, Pantomime, dances and private parties.

3.17 miles away

Superb gardens with 5 international class flat bowling greens. The park also contains formal...

3.36 miles away

The Art Deco Connaught Theatre, Cinema and Studio hosts a wide variety of plays ranging from...

3.53 miles away

Splash Point is a notable landmark on Worthing's promenade, and now transformed into an exciting...

3.54 miles away

The largest of the town's entertainment venues, hosting live bands; Worthing Symphony Orchestra and...

3.61 miles away

Varied collections including art, costume, toys, archaeology and local history. Exciting programme...

3.62 miles away
Previous
Next