River Adur - Coastal Link & Sculpture Trail
Shoreham-by-Sea
West Sussex
BN43 5FF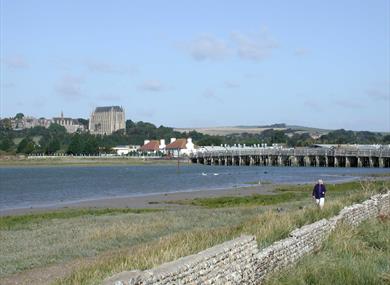 If you fancy something a little more laid back, a stroll and picnic along the Coastal Link makes a relaxing half-day alternative to sightseeing. The Coastal Link is an important pedestrian, bridle and cycle path, which runs along the banks of the River Adur.
The Coastal Link joins Shoreham to the South Downs and connects with the South Downs Way and the Downs Link - two long distance bridle and cycle paths. There are many other walks, bridle and cycle paths throughout the district, which provide pleasant routes around the Downs and the River Valley.
The Sculpture Trail runs alongside the banks of the River Adur and forms part of the southern end of the Coastal Link. You will also find more installations of public art further down the river on the water front walk at the Ropetackle development between the Norfolk Bridge and the railway bridge.
The River Adur is the namesake of the Adur district of West Sussex. The name of the river is thought to have been derived from the word 'dwyr' which is Welsh/Celtic for water. At one time the river was used by large vessels to transport items up to Steyning, which also had a large port, but once the river started to silt up the port was moved, and the river ceased to be used for large transportation. Back in the medieval period the River Adur was also used for transportation to the ports of New Shoreham and Bramber.
The Adur starts from two different branches known as the eastern and western Adur, which meet up together to form one long stretch of river slightly west of the town of Henfield. The eastern Adur River begins in East Sussex at the Ditchling Common until it crosses over to West Sussex and meets up with a stream that is found in Twineham.
At the beginning of the river its flow is fed in Shermanbury by the Cowfold Stream. The western Adur River begins at Sinfold and circles around Coolham where it continues on to flow through Shipley, until it meets Lancing Broo, and continues on through Knepp Castle and West Grinstead.
The western portion of the river is much stronger in flow, and even tidal in the North, towards the Bines Bridge, which is south from the town of West Grinstead. When the two sections of the river meet up by Henfield they flow through the South Downs, past Lancing College, which is where the sacred Ladywell Stream feeds into it. From there the river continues until it dumps out in the English Channel.
Opening Times
2017
(1 Jan 2017 - 31 Dec 2017)
What's Nearby
Twelfth-century secular building with unusual architectural features. Housing the museum of the...

0.31 miles away

Shoreham Beach is a designated Local Nature Reserve (LNR) supporting large areas of vegetated...

0.51 miles away

A landlocked brackish lagoon which is home to some unique plantlife and a regular base for some...

0.84 miles away

Lancing College Chapel is a spectacular example of Victorian Gothic architecture in a superb...

1.3 miles away
The Barn Theatre is used for various activities - Theatre, Pantomime, dances and private parties.

2.11 miles away

In Coombes, near Lancing, West Sussex, England UK where the Passmore family have been farming for 5...

2.18 miles away

Passies Pond is a day ticket fishery with a second lake for matches. Corporate days and junior...

2.23 miles away

Brooklands Pleasure Park is great for all the family. Note: the boating lake is currently closed...

2.49 miles away

Fun for all ages driving Go-Karts or mini-motos with a choice of 2 circuits, either the oval (this...

2.52 miles away

Centre offering fitness classes, badminton, basketball and volleyball courts and floodlit tennis,...

3.43 miles away

An enchanting historic 15th century timber-framed house, with magnificent gardens, in the...

3.6 miles away

Superb gardens with 5 international class flat bowling greens. The park also contains formal...

3.78 miles away

Splash Point is a notable landmark on Worthing's promenade, and now transformed into an exciting...

3.91 miles away

The Art Deco Connaught Theatre, Cinema and Studio hosts a wide variety of plays ranging from...

4 miles away

The largest of the town's entertainment venues, hosting live bands; Worthing Symphony Orchestra and...

4.12 miles away

Varied collections including art, costume, toys, archaeology and local history. Exciting programme...

4.11 miles away
Previous
Next