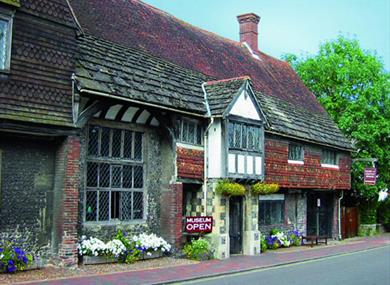 Discover how the Tudors and Elizabethans lived, worked and relaxed at home. An impressive 15th century timber framed Wealden hall -house, it was given to Anne as part of her divorce settlement from Henry VIII. This atmospheric house displays authentically furnished rooms and its garden uses traditional plants and Tudor planting. It also contains the Museum of Lewes history, Tom Paine and the Wealden iron industry.

The house and enclosed gardens are available for weddings and functions and family events are held throughout the year including a Tudor Day in October where you can find out what the Tudors liked to eat, music, refreshments & a chance to meet the resident Tudor Housewife.
Find out more about Sussex or see other attractions and places to visit in the county.
See here for other Historic Houses in Sussex.
Awards
Visit England Awards -

Code of Practice

2011
Gradings
Quality Assured Visitor Attraction VB Attraction

What's Nearby
An 18thC landscaped walled herb garden with many statues and a gazebo. The herbs are planted in...

3.14 miles away

Knowledge is our key to your perfect party!!!

Heaps of activities, superior stag and hen...

3.98 miles away

A Tudor house with Georgian additions in downland park setting. Important English and European Old...

4.18 miles away

Situated on the outskirts of the city, Stanmer Park is a perfect example of the vast open...

4.57 miles away

Plumpton Racecourse is one of the most successful smaller jump racecourses in the country, staging...

4.91 miles away

Saltdean beach is shingle between rock groynes backed by high chalk cliffs and at low tide, you...

5.11 miles away

Enjoy a wonderful day out meeting some of the 1000 animals in our care.

Raystede is open to the...

5.16 miles away


Panoramic views from the top of world

Ditchling Beacon is located 7 miles to the north of...

5.31 miles away

Planet Earth at Paradise Park is the perfect day out for all ages. Discover the fascinating world...

5.34 miles away

Charleston, the home of the artists Duncan Grant and Vanessa Bell (sister of Virgina Woolf), became...

5.47 miles away

Brighton Racecourse is the fun and friendly seaside racecourse
overlooking the Brighton and Hove,...

5.8 miles away

Set in the heart of the Sussex countryside, Bentley has something to offer everyone. A wonderful...

6.03 miles away
Previous
Next