Worthing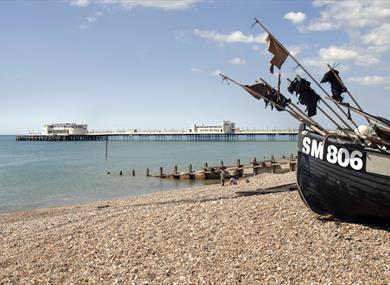 One of the biggest seaside towns on the South Coast, Worthing is a lively destination for shopping, eating, entertainment and family fun by the seaside!
It's perfectly located to explore the award-winning beaches and seafront of the Worthing coast, as well as the stunning landscape of the South Downs.
Things to see and do in Worthing...
For evenings out in Worthing, you'll find plenty of restaurants and traditional pubs, with a choice of three theatres and two cinemas for after meal entertainment. Pedestrianised streets make shopping in the town centre an easy, relaxed affair – with dozens of high quality shops and boutiques.
Strolling along the palm-lined promenade on the seafront you'll find activities for the whole family – from go-karting, miniature golf and Brooklands Pleasure Park to the Art Deco architecture of Worthing Pier pier adds a touch of historic class to the atmosphere.
What's Nearby
The Pier offers plenty of opportunity to stop and watch the world go by and enjoy all that the...

0.03 miles away

Part of Worthing Theatres, the Pavilion Theatre is situated on the promenade at the entrance to...

0.03 miles away

Splash Point is a notable landmark on Worthing's promenade, and now transformed into an exciting...

0.24 miles away

The Art Deco Connaught Theatre, Cinema and Studio hosts a wide variety of plays ranging from...

0.3 miles away
Varied collections including art, costume, toys, archaeology and local history. Exciting programme...

0.32 miles away

The largest of the town's entertainment venues, hosting live bands; Worthing Symphony Orchestra and...

0.37 miles away

Superb gardens with 5 international class flat bowling greens. The park also contains formal...

0.4 miles away

Splashpoint Leisure Centre, Worthing's brand new swimming, fitness and leisure complex

0.49 miles away

Worthing has 5 miles of a beautiful palm-tree lined promenade, including the exciting new splash...

0.56 miles away

Centre offering fitness classes, badminton, basketball and volleyball courts and floodlit tennis,...

0.81 miles away

Fun for all ages driving Go-Karts or mini-motos with a choice of 2 circuits, either the oval (this...

1.63 miles away

Brooklands Pleasure Park is great for all the family. Note: the boating lake is currently closed...

1.66 miles away

Worthing Leisure Centre welcomes all ages to its very varied facility. From Creches to Climbing...

1.79 miles away

A popular facility offering bowls, petanque, a centre for artists and potters, the Barn Theatre,...

1.87 miles away

Church with impressive reproduction of the famous Sistine chapel ceiling in Rome. It is two-thirds...

2.56 miles away

A landlocked brackish lagoon which is home to some unique plantlife and a regular base for some...

3.36 miles away
Previous
Next