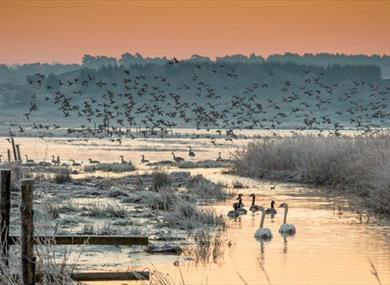 Pulborough is a rural village lying across the line of the Roman Stane Street (the A29) which historically connects London and the north to important south coast ports and towns. This route crosses the River Arun by road and rail at Pulborough . Running east-west through the village and parallel to the South Downs the A283 is an important route connecting the Winchester area to Eastbourne and beyond. Set on a south facing escarpment the village has panoramic views across the Arun Valley to the South Downs. Outlying from the village are a series of hamlets closely connected to Pulborough.
There is evidence of local settlements dating back to Saxon times. The Romans deemed the village important enough to station a garrison here to guard the route up Stane Street from the coast. The Domesday Book records significant dwellings here. The river Arun provided an important trade route connecting to the Wey & Arun Canal and also provided a (more secure) inland route for military supplies to the south ports.
The coming of the railway in the mid 1800s took over trade from the river barges and today Pulborough's station remains an important connection for London and the coast.
The village has over time developed piecemeal reflecting its growing and changing importance as a road, river and rail junction. Local industries have similarly changed and while dwellings have increased. Pulborough village has become a vibrant hub around which the residential 'pockets' in the local hinterland are supported.
Buildings in and around the village date from various historical periods with Saxon, Tudor, Georgian and Victorian houses being significant together with major additions in the 20th century. They provide the area with much of its character and history which is pleasant for the residents and the visitor alike.
Today, the area has most of the ingredients to provide the visitor to the area with all that they will look for.
Photos by Edgar Feldmanis
What's Nearby
The RSPB invites you to discover and enjoy wildlife all year round. Set in the scenic Arun Valley...

1.56 miles away

Nutbourne Vineyards were first planted in 1980 and there are now 18 acres of vines in production...

1.71 miles away

Set in the heart of an ancient deer park, Parham House and Gardens is situated below the South...

2.62 miles away


Amberley Museum is an amazing place tucked away in the South Downs between Storrington and...

4.14 miles away
Previous
Next