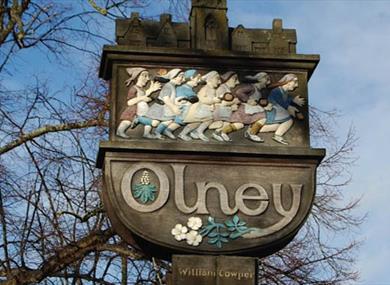 Olney, a quiet market town and a short drive from the heart of Milton Keynes, was once a centre of lace-making and more recently the boot and shoe industry. It is a thriving, bustling community with plenty to offer visitors and best known for its annual Pancake Race established 1445.
The Cowper and Newton Museum on the Market Place, was home to William Cowper from 1768-1786. Together with John Newton, ex-slave trader, curate and author of Amazing Grace, they wrote the famous Olney Hymns.
The 14th Century church of St Peter and St Paul, with its 200ft spire dominates the entrance to the town. Emberton Park and Clifton meadows are near by offering river and lakeside walks, canoeing, fishing and many other activities.
Best Kept Village
Olney with its sense of community shows its pride with its winning tradition of Britain in Bloom and the Bucks' Best Kept Village competition. In spring and summer the town is decorated with stunning floral displays to be enjoyed and savoured by all.
Olney's wide High Street (one of the widest in England) offers a mix of restaurants and pubs and an interesting collection of delightful shops. It invites you to explore the side alleys to discover more shops and walkways without taking you away from the main town. The weekly market on Thursday and local Farmers' Market on the first Sunday of the month add a buzz to the activities of the town. Free parking throughout and easy access from the M1 make Olney a great place to visit.
Events
Olney, on the river Ouse, hosts raft and duck races in early July with family entertainment and good old fashioned rivalry and fun. The firework display in November is spectacular and provides easy parking and access to the event.
Dickens of a Christmas, now an established event, takes place on either the first or second Sunday in December. The whole town comes to life with a traditional Victorian Christmas market with live entertainment and Father Christmas.
What's Nearby
The Grand Union Canal runs from London to Birmingham crossing straight through the Chilterns....

8.48 miles away

Drive through the different areas in the comfort of your own car and you will see lions at play on...

9.96 miles away

Explore, experience and enjoy the once top-secret world of iconic Codebreaking Huts and Blocks set...

11.12 miles away

A choice of three championship courses, over 54 outstanding holes. Woburn is an ideal venue for a...

11.56 miles away
Woburn Safari Park is an action packed day for all the family. From the Road Safari where you can...

11.62 miles away

The home of British Motor Racing, Silverstone is the venue for the British Formula 1 Grand Prix,...

14.51 miles away

Over forty temples and monuments, laid out against an inspiring backdrop of lakes and valleys....

15.84 miles away

Housing Buckingham's Museum, the Tourist Information Centre and the Flora Thompson (Lark Rise to...

16.09 miles away


Ascott House is a half-timbered Jacobean farmhouse, transformed by the de Rothschild family...

17.99 miles away

Try something different - take a Llama to lunch! Discover the beautiful Northamptonshire...

18.6 miles away

NATIONAL TRUST PROPERTY
Elizabethan Manor House, home of the Dryden family. Unaltered since 1710....

19.2 miles away

There is plenty to do for all the family; see the beautiful interiors of the 400 year old house,...

19.33 miles away

An environmentally friendly 44 acre rare breeds farm in Aylesbury Vale for all ages.

20.01 miles away


Sulgrave Manor is a superb example of a modest Manor House and Garden of the time of Shakespeare,...

20.53 miles away

Seventy-foot tower mill, which has recently been restored to full working order, with internal...

21.16 miles away

One of the oldest post mills in Britain baring the date 1627 .

22.18 miles away
Previous
Next