Chertsey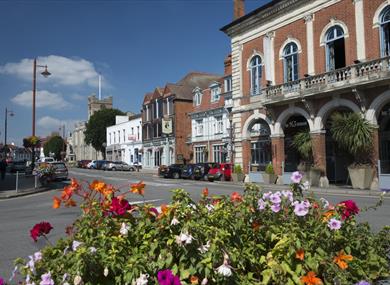 Archaeological remains show the area was inhabited long before the founding of Chertsey Abbey in 666AD.
The Abbey, the first of its kind in the county, was immensely wealthy and powerful and at the height of its power the Abbot controlled over 50,000 acres of land in Surrey plus houses in London and Cardigan Priory in South Wales. The Abbey was ransacked by Vikings in 871 when the Abbot and 90 monks were killed.
After the Dissolution of the Monasteries, Chertsey continued to thrive as a market town and, in the 17th and 18th centuries, a busy coaching town. In the 18th and 19th centuries it became an important centre for clock making, as well as having a bell foundry and a separate iron foundry.
The town centre has remained largely unchanged with a large number of older listed buildings including the Cedars which is the home of Chertsey Museum.
There are parks and open spaces available to be enjoyed by local residents with Chertsey Meads, Chertsey Recreation Ground, Gogmore Park and Abbeyfields. The town also has football, cricket and bowls clubs.
Other local attractions include Thorpe Park, JB Waterski, St Ann's Hill (a protected monument), Chertsey Meads and the miniature Steam Railway in Lyne.
What's Nearby
71 hectares (175 acres) of wildflower meadow on the banks of the Thames

1.25 miles away

As the nation's Thrill Capital, THORPE PARK IS THE 'must do' destination for adrenaline junkies! ...

1.42 miles away

Driving is our first passion, but it's not all we have to offer. Whether you're planning a family...

2.96 miles away

Brooklands Museum is on the site of the world's first purpose-built motor racing circuit and houses...

2.96 miles away
Immerse yourself in the luxurious award-winning spa at the runnymede-on-thames.

3.6 miles away

Runnymede Surrey Magna Carta 800th Anniversary Garden

3.6 miles away

River Thames boat hire at the runnymede-on-thames hotel and spa.

3.66 miles away

This memorial overlooks the River Thames and commemorates by name over 20,000 airmen who were lost...

4.24 miles away


Very leisurely stroll through the park at Ankerwycke on gentle terrain. Perfect for a lazy Sunday...

4.49 miles away

The Savill Garden is a garden of beauty and colour where visitors journey through 35 acres of...

4.6 miles away

A large deer park of 5,000 acres, Windsor Great Park is located to the south of the town of Windsor...

4.6 miles away

Chobham Common is the largest National Nature Reserve in the southeast of England and one of the...

4.86 miles away

Kempton Park in Sunbury-on-Thames is the London's premier all-weather horse racing and...

4.92 miles away

Whether you're passionate about the arts and history, want activities and fun, or would just like...

4.98 miles away

We're proud to invite you to the home of WWF-UK. One of the greenest buildings in the UK, the...

5.1 miles away


Wisley is the historic home of the RHS and undoubtedly one of the finest gardens in the world.

5.36 miles away
Previous
Next