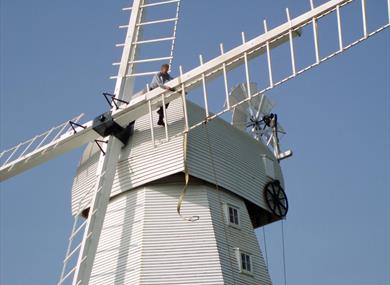 Right in the heart of Kent, the famous "Garden of England", Ashford has bloomed into a lively, cosmopolitan commercial centre. Officially a market town, Ashford's fortunes took a swift upward turn with the opening of Ashford International railway station in 1996.
With trains now arriving from Paris daily, Ashford has a bustling continental atmosphere and is expected to double in size over the next 25 years. This is thanks in part to the new fast train link High Speed 1, getting you into London St. Pancras in an amazing 35 minutes!
However, despite all this activity, Ashford retains its rural charm. You'll find 19th Century windmills and medieval buildings alongside bright shopping centres and trendy restaurants. You're only ever a stroll away from the scent of apple orchards, the sight of rolling hills and the tranquil sound of wild birds singing.
Things to see and do in Ashford
Indulge in a little retail therapy at the McArthurGlen Ashford Designer Outlet where you can choose from over 100 discount luxury brand stores.
Visit the towering Willesborough Windmill, which has been turning since 1869.
If you're interested in wildlife, the nearby Port Lympne Wild Animal Park has dozens of rare and colourful species.
For more domesticated (but no less exciting) animals, try the South of England Rare Breeds Centre where you can get close to farm breeds.
Admire the colourful flowers and beautiful topiary at Beech Court Gardens in nearby Challock.
Find out more about the towns roots the Ashford Museum, housed in a 17th Century grammar school building.
See one of the best examples of Jacobean architecture in the region at Godinton House and Gardens, home to the Toke family for over 450 years.
For more information visit the official tourism website for Ashford
What's Nearby
135 year old Smock Mill, in course of restoration. Miller's cottage, restored Hornsby 14hp gas oil...

1.24 miles away

An ancient estate in a magnificent park with thrilling formal gardens now splendidly restored - one...

2.01 miles away

Fact or Fiction Tours offers coach tours, walking tours and lectures around the South East of...

3.75 miles away

The Kent Downs Area of Outstanding Natural Beauty (AONB) is a nationally important, protected...

5.35 miles away
Large collection of rare farm breeds on a working farm with children's play activities. Home to the...

6.05 miles away

The best and widest selection of days out in Kent.
Ideas and inspiration including events. Explore...

6.94 miles away

Port Lympne Reserve, set in 600 acres, has something for everyone, whether you're interested in...

7.3 miles away

Located in the North Downs at Westenhanger, Folkestone Racecourse is Kent's only horse racing venue...

7.85 miles away

A late 18thC country house designed by Samuel Wyatt, seat of the Harris family since 1801. Harris...

8.7 miles away

The picturesque line weaves between Tenterden and Bodiam for 10 1/2 miles. England's finest rural...

9.85 miles away

Brogdale Farm is home of the National Fruit Collections, the largest collections of fruit trees and...

10.54 miles away

The best wines in England available in the shop plus excellent local and regional produce. Guided...

10.61 miles away

Early 16th Century house owned by early Victorian actress Ellen Terry. Full of theatrical mementoes...

10.7 miles away

Biddenden vineyard is Kents oldest commercial vineyard producing award-winning wines, ciders and...

10.82 miles away

A family attraction where visitors can see steam engines, trains, a signal box and the largest...

11.14 miles away

Mount Ephraim Gardens have plenty to offer and delight visitors. Unwind in these ten acres of...

11.23 miles away
Previous
Next