Port of Ramsgate
Military Road
Ramsgate
Kent
CT11 9LQ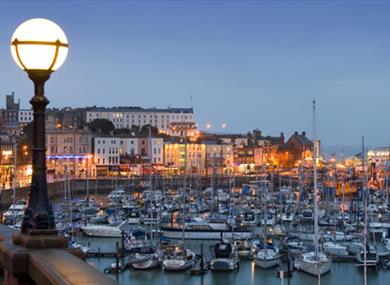 The Port of Ramsgate is one of 26 municipal ports in England and Wales and it is set on 32 acres of dedicated port land.
It has three Ro-Ro berths, capable of accommodating conventional Ro-Ro fast ferry services, with full passenger and freight vessel facilities.
With easy access to the open sea,it averages 10 minutes from berth to clearing a buoyed channel and access is possible at all states of the tide and in most weather conditions.
The port has a dedicated £30 million road into the port and dual carriageway that links to the M2 motorway allowing you to reach the ditrict of Thanet which is only an hour drive away from the outskirts of London.
If you are feeling adventurous you can take a pleasureboat cruise around the harbour or venture further afield and explore the sandbanks and seal colonies that sit just off our coastline.
Ramsgate's Spitfire & Hurricane Memorial Museum houses splendid examples of two iconic British fighter aircraft that served during the Second World War.
So whether you are staying in Ramsgate or just stopping by, there is plenty to do for the all the family.
See here for accommodation in Kent.