The LEGOLAND® Windsor Resort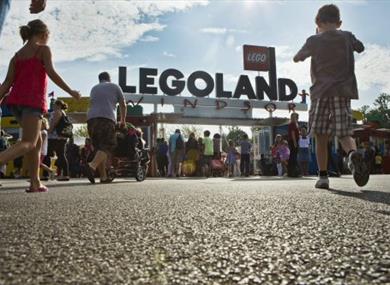 The LEGOLAND® Windsor Resort is a unique family theme park where children aged 2 -12 can take to the road, soar through the skies and sail the seas in complete safety.
It has over 55 interactive rides, attractions, live shows, building workshops and driving schools, not to mention a staggering 80 million LEGO® bricks, all set in 150 acres of beautiful parkland.
There's also the option to extend a visit to a sleepover at the fully LEGO themed, 150 room LEGOLAND Hotel situated right in the heart of the Resort.
Find out more about Berkshire or see other attractions and places to visit in the county.
If you like Legoland, why not discover other theme Parks in the South East.
Legoland Windsor Resort Reviews (from Google)
Average rating 3.6/5 from 8 reviews
It's the amazing staff that makes the difference. I enjoyed the day thanks to them, always looking for a chance to help and make people feel well. From the car park, to the entrance, including a new member staff in the ticket box. Everyone was a star. I understand the place is going through renovation in some areas and I'm looking forward to return. Children enjoyed. Thanks for the app to beat the queue. Highly recommended if you are visiting London.
Pedro, 2017 - 5 stars
While good it could be so much better, displays not working and some broken. And the cost of getting in is astronomical. For the price of two adults and two kids you could get a weekend away in Devon and visit some better adventure parks than this and still have change left. Sadly a park trading on its name not quality. The staff has to be said we're excellent.
Ben, 2017 - 2 stars
a great day out lots to see and do. guiding weekend event a great idea. star wars exhibit absolutly brilliant. The mini village so detailed we all had a great time. could have done with a longer day to be able to do more. The only down side was the wait in long queues for the rides. all in all a fun day out.
Helen, 2017 - 4 stars
Our visit to Legoland Windsor was fantastic, from first arriving we had a great experience. All the staff were helpful and polite and some went out of there way to assist us. Food was responsibly priced and very good quality. Waiting times a little longer than anticipated or indeed indicated on some of the attractions but nothing to bad. All in all a very good day and we would definitely recommend.
Anthony, 2017 - 5 stars
Park is great, lots of rides but mainly for under 10yrs I'd say. Very hilly but they provide a train that takes you up and down the hill. Beautiful views of Windsor castle. Nice food. Expect lots of queues in the school holidays
Lucy, 2017 - 3 stars
We had a ton of fun! Very expensive so make sure you plan ahead and get a deal (eg Kellogg's cereal do half price). Good for kids up to 10-11 I'd say with plenty to keep the adults interested as well.
Alan, 2017 - 4 stars
Its a great place, but super busy and super expensive. They've recently started grading people on how much money they can get out of you. If you pay the entrance fee, you can go on the rides, at the end of the queue and after everyone else has been on the ride. Next level you can pay for a 'Priority ticket' that lets you skip in front of regular people, but even then that is split into another three layers and again the more you pay the more people you can jump in front of. Sad really that people tolerate this level of grading. Money rules all I suppose.
Bryan, 2017 - 1 star
It was amazing! The hotel had a fantastic theme the food was great definitely recommend the fizzy slush! All rides were great better than anywhere and the staff were really helpful and really got into the spirit and the shows were interesting and just amazing also the rooms were comfortable and there is a kids part and pearents side with a treasure hunt!. The pool was fun and had many things to play with.
Katie, 2017 - 5 stars
What's Nearby
Luxury passenger boats for private hire operating from various locations between Windsor and Marlow...

1.6 miles away

Dorney Lake is a 2,200 metre flat water rowing lake owned by Eton College. Used for international...

1.77 miles away

Racecourse Marina is one of the premier marines in the Thames Valley. We aim to provide service and...

1.83 miles away

With our fabulous island setting on the banks of the River Thames, a warm welcome from the minute...

2.13 miles away
Enjoy using excellent equipment and extensive range of services in a brilliantly designed,...

2.17 miles away

BREWERY SHOP AND BAR

Fancy sampling locally brewed beer? Then look no further than Windsor and...

2.2 miles away

Plans to create a riverside garden in this area date from 1893 although the possibilities must have...

2.21 miles away

The Windsor & Royal Borough Museum is a registered/accredited, family-friendly and accessible small...

2.38 miles away

Great fun for all the family. Self-drive motor boats and rowing boats for hire. See the finest...

2.49 miles away

Visit Windsor and see the breathtaking sights and attractions on board one of our open top double...

2.5 miles away

Qualified Blue Badge Tourist Guide (English, German and French) to Windsor, London and much more.

2.5 miles away

The Changing of the Guard is one of the highlights of a visit to Windsor. A band usually...

2.52 miles away

The best way to experience the sights of this ancient royal town is with one of our professional...

2.51 miles away

Dorney Court is one of the country's finest stately homes and any visit is a fascinating and unique...

2.54 miles away

The Theatre Royal Windsor is a beautiful Edwardian theatre nestling between Windsor Castle and the...

2.56 miles away

Windsor Duck Tours: come and experience our incredible live guided tours of Windsor. Your road...

2.57 miles away
Previous
Next