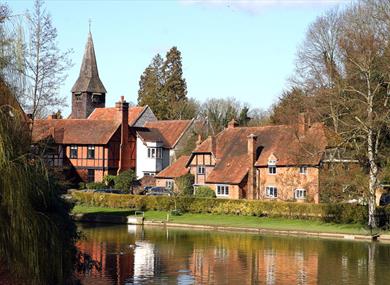 Nestling along the River Thames, Pangbourne is subject of much literary inspiration. A charming place, undeserving of being labelled Pongbourne by author DH Lawrence.
His letter in 1919, sold at auction in Edinburgh, was somewhat uncomplimentary about the village and its people. Had he visited today, we're sure he'd have come away with a much brighter impression and here's why...
Kenneth Grahame, author of 'Wind in the Willows', lived in the town and the Swan Public House is referred to in Jerome K. Jerome's 'Three Men in a Boat'.
Today, Pangbourne is still a charming place, full of character, with individual shops, pubs and cafes, an ideal place to potter. Stop and watch the waterside wildlife while enjoying a pint of beer, glass of wine or why not try The Herd Restaurant, famous for its steaks. Surrounded by picturesque countryside that cradles the River, many visitors come through Pangbourne on the National Thames Pathway but stop to enjoy the town's tranquillity.
The water meadows, owned and maintained by the parish council are a popular spot for a picnic or a stroll. It's also the site of the annual village fete, a wonderful English tradition, including the customary WI cake stall but also the more unusual Limbo dancing competition! With parking and easy access from the M4 motorway this is a popular choice for families.
National Trust
Another draw to families is Beale Park at Lower Basildon, a Riverside park, home to many difference species of birds as well as goats and ponies. There are also picnic areas and other great facilities fo those with small children. Close by is National Trust property, Basildon Park, noted for its detailed plasterwork, magnificent staircase and unusual shell room. More recently, this splendid building was used whilst filming Pride and Prejudice.
For more things to do around Pangbourne, take a look at the 'What's Nearby' listings below.