Bosham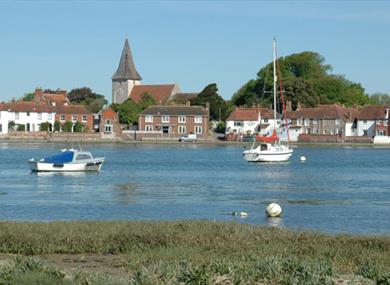 A small attractive village on one of the small inlets of Chichester harbour, Bosham (pronounced 'Bozzum') has played an important part in the history of this country over the centuries.
History
Inhabited by the Romans, Bosham was the sixth most important town in Sussex in the 8th century. Legend has it that the Danish King Canute sat on a chair surrounded by his courtiers and commanded the waves to go back - they did not, an exercise which showed that even the great Canute was mortal; he got his feet wet! King Canute's eight year old daughter was drowned in the Brook Stream and is buried in Bosham Church in a Saxon coffin at the foot of the chancel steps.
It was from Bosham that Harold II set forth in 1064 to negotiate with William of Normandy, a voyage that led to William the Conqueror's return in 1066; Bosham features in the Bayeaux Tapestry.
Things to do in Bosham
Today Bosham is both picturesque and a thriving centre for sailing. Chichester harbour is a sanctuary for migrating wildfowl, shellduck, wigeon, Brent geese, waders and many more, and offers great walks along the sea shore. A favourite haunt for artists and photographers, this picturesque village offers something to suit all tastes; those with a sense of history, artists, photographers, walkers, cyclists, sailors and weekenders all love the place. Visit the Quay and the Church, browse through the many artisan shops in Bosham Walk or just relax and enjoy this very special place.
For things to do in the area take a look at our Sussex guide or if you're looking to stay near then there is plenty of Accommmodation in Sussex.