Planning to attend Excursions, The South West Group Travel Show or the Beautiful South Group Travel Fairs? We would like to offer you as operators the full VIP experience and invite yourself and a group of your key clients to attend the event with you.
As part of the VIP Welcome service you will get bespoke invitations to invite your clients, your coach will be greeted on arrival and receive, express entry into the show as well tea and coffee and a goody bag in a VIP room on arrival. We can also organise a familiarisation visit on route to the show if you would like.
Coaches that have taken advantage of this VIP service in the past have found it a really useful exercise with many clients booking coaches on the return leg of their journey out once they have found places to visit, and also suggesting ideas to you for tours.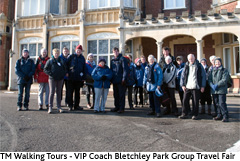 Here's what a couple of VIP coaches have to say on the experience:
"We are very pleased with the response and feedback we received from the 40+ GTOs that we brought to Excursions, the bookings we took on the day, and in the office the next day, more than justified our commitment to Excursions 2012. As Tours and Groups Manager I saw the decision to attend your exhibition, with all our key decision making GTO's as our guests, a very easy one to make. As expected, we are now busy with enquiries and quote requests from several of our groups and associations as a direct result of attending Excursions 2012. We have penned in 26th January for next year and look forward to seeing you then." Mark Bradley, Chandlers Coaches
"Thank you so much for a really enjoyable day. The service from the initial booking with yourself has been first class. The meet and greet at the Alexandra Palace was well organised and well received. Everyone new exactly what they had to do and where they had to go. The welcome refreshments were very nice and the service was excellent. The actual event is one of the best I have attended, I found it very informative, friendly and well situated at the Alexandra Palace. The feedback I received on the way home was really positive, everyone had a great day out and made some new contacts." Jo Brown, Johnsons Coaches
"Our clients found it extremely useful chatting to some of the exhibitors and have already booked their coaches for this year, we also found it extremely helpful for planning future day tours and holidays. A really good show!!" Debbie Howarth - Avensis Coaches
If you would like to register to bring your coach please contact the group travel team by emailing grouptravelenquiries@tourismse.com or call 02380 625472 for more information.