Joint packages are an excellent way of diversifying a day trip or short breaks in the South East of England. Spend a day steeped in history & heritage or rediscover your senses in a collection of enchanting experiences, alternatively spend the night with a combined attraction & accommodation package. Whatever your interest, this special edition feature is dedicated to exposing a broad selection of combined packages especially designed for groups.
History and Heritage.
Rich in experiences the South East is a hub for Castles, Cathedrals, Museums and Houses. Gain a unique insight into Surrey's heritage by touring two renowned venues in one day. Enjoy a glorious collection from Victorian artist George Fredrick Watts at Watts Gallery and explore the picturesque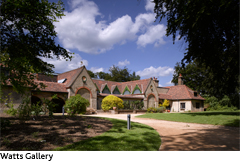 Elizabethan mansion Loseley Park. For £14pp, both ensure a great day out for a group and only minutes from the M25.
At world famous Portsmouth Harbour, groups can now take a fantastic Up, On and Under trip into the clouds at Spinnaker Tower and down to the depths at the Royal Navy Submarine Museum. Cherish stunning photographic views from Spinnaker Tower Crow's nest before taking a short cruise across the harbour where the tour continues onboard the only surviving WW2 era submarine HMS Alliance. This new inclusive joint ticket costs just £16pp.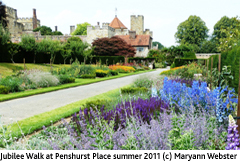 In the historic heart of the Royal Tunbridge Wells lies the famous Pantiles, once the playground of the gentry and royalty, for £11pp enjoy a one-hour guided walking tour of the Colonnaded walkway before travelling on to a free-flow non-guided visit to Penshurst Place, the family home of Viscount De L'Isle. Alternatively experience a day of Teas, Toys and Trains; for £16.50pp travel through the unspoilt countryside of the Rother Valley with a steam hauled train on the Kent and East Sussex Railway and enter into a breathtaking world in miniature at The Mill Toy and Pedal Car Museum. Formerly a gas powered flour mill this charming museum houses a unique collection of nostalgic pedal-powered toys dating back to Victorian times.
The National Trust preserves many historic houses and gardens across South East England, for £11pp spend the morning touring the awe inspiring marble halls and sculptured ceilings of the grand Palladian mansion at Clandon Park followed by an afternoon at the equally enchanting Hatchlands Park. Alternatively visiting hampshire? Escape for the perfect day spent following in the footsteps of Henry VIII amidst The Vyne's tranquil majesty and experiencing the beauty of West Green, rich in exuberant planting and colour set in one of England's most spectacular gardens.
Rediscover your Senses

.
Although just a stone's throw from London, escape the hustle and bustle of city life and enjoy a day in 'Provence' in the heart of surrey hills with an inclusive ticket from Denbies Wine Estate and Mayfield Lavender. For £15pp be transported through Denbies working winery and experience a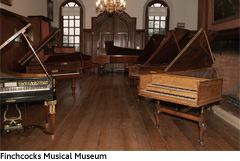 world of wine tasting before awaking the human senses to the aroma of a vibrant organic lavender farm right in the heart of the historic lavender belt of Banstead, Carshalton and Mitcham. Alternatively experience a day influenced by royal connections with The Royal Garden and River Boat Cruise, enjoy a return trip from historic runnymede to Windsor onboard one of French Brothers luxury passenger boats and gain entrance into The Savill Garden, one of Britain's greatest ornamental gardens. This excellent value package (from £24.95pp) includes lunch, cream tea and free coach parking at both sites.
A winner of the HHA / Christie's Garden Of The Year Award 'One of the finest gardens in England', Pashley Manor Gardens has introduced a joint ticket with Finchcocks Musical Museum to create Garden Treasures and Musical Pleasures. For £19pp be enraptured by the idyllic world of English gardens, blending beauty and nature in conjunction with the chance to marvel at Finchcocks fine Georgian Manor and musical collection and enjoy an informal musical demonstration from owner and concert pianist Richard Burnett or one of his musical team.
Accommodation & Attraction Packages

.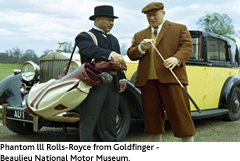 Spend 24 hours in the New Forest with the all new Bond In Motion Package, enjoy overnight accommodation, complimentary pre dinner glass of Prosecco to groups of over 4 rooms and a 3 course Michelin starred meal at The Montagu Arms Hotel, in combination with an invitation to explore the true world of Bond at Beaulieu National Motor Museum.
Visiting Oxfordshire? Why not consider staying overnight in Farringdon, enjoy an afternoon discovering the delights of Farringdon's quintessential town in a unique package bought to you by Best Western Sudbury House Hotel. In addition to an overnight stay, for £5 per person this group friendly hotel can organise 'Lord Burner's Magical Walk', which includes a charming town tour and a visit to Farringdon Folly, Farringdon's iconic 100ft tower and the last major folly to be built in England.
Click here to download a full range of Joint Packages available across the South East of England.
The information contained in this feature is given in good faith on the basis of information provided by TSE members. TSE cannot be held responsible for any errors, omissions, subsequent alterations or misinterpretations. The information within this feature was correct at the time of pulication in June 2012. It is advisable to check directly with the establishment concerned to ensure that information is still accurate and available before travelling.